What Is a Check Valve?
The main characteristic of a Check Valve is that it has a single inlet and outlet. The valve closes when the upstream pressure drops below the cracking pressure, or when backpressure is present. There are many types of check valves, but the key feature they all have is the cracking pressure. Check valves are often used in a variety of fluid flow applications, including chemicals, pulp and paper, and food processing.
A Check Valve may be made of multiple materials, such as metal or plastic. Some types may also include buffer devices. Buffer devices can be provided for swing, lift, or double plate check valves. If there is a high backflow pressure, you can choose the slow-closing type. The latter can reduce the water hammer pressure caused by strong backflow. In some cases, a Check Valve is not required.
Another type of Check Valves is the Tilting Disc Check Valve. This type features a pivot point in the center of the disc. As a result, fluid flows over the top and bottom of the disc. Because of this, Tilting Disc Check Valves are ideal for high-frequency reversals, but they don't work well in wastewater applications. These valves often have large opening and closing pressures, and they may also be susceptible to debris and fouling.
Choosing the right type of Check Valves is critical for the safety of your equipment. Choose a Check Valve based on the size of your line and the volume of fluid that will be flowing through it. The proper sizing of the valve will prevent fluttering and ensure the valve is fully open or closed during typical operating conditions. A poorly specified Check Valve is one of the leading causes of many problems, and it is vital to ensure you have a properly functioning check valve.
A Check Valve is an automatic valve. They work by preventing backflow. It has two ports - one for inflow and one for outflow. A check valve is commonly known as a one-way or non-return valve. Check valves are available in many different sizes, designs, and materials. If you are looking for a Check Valve, you should consider reading this article! It will give you an overview of the different types available for different purposes.
There are several types of Check Valve bodies available. Most check valve bodies are made of metal or plastic, but you can also find ones made of exotic materials such as titanium. These materials are also corrosion-resistant and able to withstand high temperatures. Check valves are commonly used in water and irrigation systems, but they are not suited for high-pressure applications, and may be more costly. They may be difficult to install in certain applications, and you should seek professional help to install them.
There are two types of Check Valves available. One type is a dual-plate check valve. A dual-plate Check Valve has a patented design and is non-piggable. The dual-plate Check Valve also offers excellent hydrodynamic properties, which result in low pressure losses. Another type is a wafer-type compact valve. They are also lightweight, which gives them an advantage during installation. The Dual-Plate Check Valve is versatile and suitable for gas, oil, or liquid.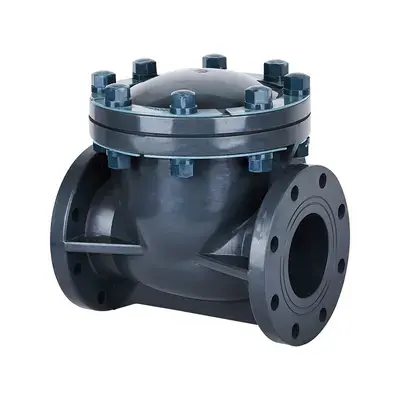 Competitive price UPVC Swing Type Check Valve Wafer Insert DN15-DN300 Plastic Valves For Drain and chemical industry
Place of Origin:China
Brand Name:KXPV
Model Number:H44F-10U
Application:General
Material:Plastic
Temperature of Media:Medium Temperature, Normal Temperature
Pressure:Medium Pressure
Power:Manual
Media:Acid
Port Size:DN15-DN300
Structure:Check
Product name:Wafer Check valve
Delivery Time:7 Days
MOQ:1 Piece
Color:Grey
Supply Ability:10000 Piece/Pieces per Month