Upvc Check Valve
If you're looking for a quality, durable Upvc Check Valve for your home or business, you've come to the right place.
This article outlines the benefits of this particular type of valve. We also outline how to install and maintain one correctly. Hopefully, this article has helped you decide which type is right for your needs. If you're looking for a high-quality valve to prevent backflow, keep reading!
A PVC swing check valve is a type of check valve. These valves can be installed in horizontal or vertical positions and are typically used where backflow could cause flooding. A PVC swing check valve is an essential part of most PVC systems, and they are a simple, maintenance-free piece of equipment. This is the best valve for applications requiring the prevention of backflow. Its compact design and automatic function make it an ideal choice for a variety of applications.
A piston check valve is similar to a butterfly valve, but it is different. It works by opening and closing based on the pressure of the flow. The piston is lifted when the pressure is high enough, and rolls down when the pressure decreases. These valves come in two basic styles - gray and clear. In addition to Clear and Gray, they come in True Union, Compact, and Compact. These valves also make it easy to diagnose if you're experiencing a backflow problem.
When choosing a Upvc check valve, consider the function and application. Its main function is to prevent reverse flow. They often require no external actuation, and provide a quick solution for backflow. However, check valves have several disadvantages. They can be hard to install, are inflexible, and may sometimes stick in the open position. You should choose the material carefully based on the performance requirements of your piping system and media. Consider temperature, pressure, and other variables.
Another type of Upvc check valve is the swing type. This valve is mounted on the outlet side of a pump. They prevent backflow by keeping liquid in the pipe, even though the pump itself is not self-priming. This type of valve is commonly used in HVAC-systems, which pump coolant up many storeys. Check valves prevent backflow by preventing water from flushing back down. A swing type Check valve, on the other hand, is a type that allows full flow at low pressures.
The swing Check valve is one of the most common types of Check valve. It uses a flap with a diameter that matches the inside diameter of the pipe. When the flow of liquid ceases, the flap is lifted off the seat, and it allows the fluid to pass through. A hinge pin secures the flap in place, stopping backflow. The swing check valve can also be used in a pressure-reducing system. However, be sure to inspect the valve to ensure that it works correctly before installing it.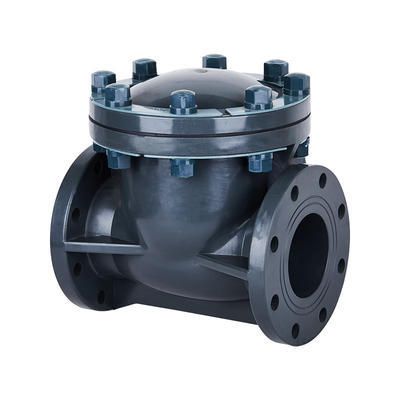 Competitive price UPVC Swing Type Check Valve Wafer Insert DN15-DN300 Plastic Valves For Drain and chemical industry
Place of Origin:China
Brand Name:KXPV
Model Number:H44F-10U
Application:General
Material:Plastic
Temperature of Media:Medium Temperature, Normal Temperature
Pressure:Medium Pressure
Power:Manual
Media:Acid
Port Size:DN15-DN300
Structure:Check
Product name:Wafer Check valve
Delivery Time:7 Days
MOQ:1 Piece
Color:Grey
Supply Ability:10000 Piece/Pieces per Month