PVC valves are known for their exceptional chemical resistance, making them suitable for handling a wide range of corrosive fluids. They can withstand exposure to acids, alkalis, and various chemicals, making them highly durable in demanding environments. PVC valves also exhibit excellent pressure resistance, ensuring reliable performance even under high-pressure conditions. Moreover, PVC valves have a smooth interior surface, minimizing friction loss and allowing for efficient flow control. With their lightweight yet robust construction, PVC valves offer ease of installation and maintenance.
PVC valves find extensive use in water treatment facilities, where they regulate the flow of water and various chemicals. They are also widely employed in irrigation systems for agriculture, ensuring efficient water distribution. In the industrial sector, PVC valves are utilized in chemical processing plants, wastewater treatment facilities, and manufacturing processes that involve corrosive fluids. Additionally, PVC valves are often used in swimming pools, aquariums, and aquarium filtration systems. The versatility of PVC valves allows them to adapt to a range of applications, making them a preferred choice in many industries.
PVC valves are designed to meet stringent safety standards and regulations. Their resistance to corrosion and chemical degradation helps prevent leaks, ensuring the containment of hazardous substances. PVC valves are also non-toxic and do not contaminate the fluid being transported, making them suitable for applications where purity is essential. Furthermore,
PVC Valve Suppliers
are recyclable, aligning with sustainable practices and environmental compliance. Their long service life reduces the need for frequent replacements, minimizing waste generation. PVC valves offer a reliable and environmentally friendly solution for flow control needs.
It is crucial to consider factors such as pressure rating, temperature range, and chemical compatibility. The valve size and type, such as ball valves, butterfly valves, or check valves, should be selected based on the desired flow control requirements. Installation considerations, such as the connection type and compatibility with existing piping systems, should also be evaluated. Additionally, it is essential to ensure compliance with industry standards and regulations to guarantee the safety and reliability of PVC valves in the intended application.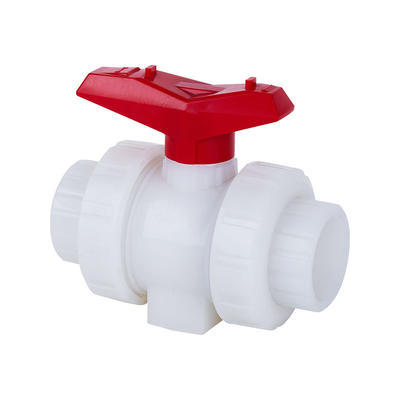 Industrial High Temperature Soft Seal Manual Through Way Plastic PPH Diaphragm Valve For Water Supply
Application:General Water Supply
Temperature of Media:High Temperature, Medium Temperature
Power:Manual
Media:Acid
Port Size:DN15-DN250
Structure:Diaphragm
Product name:PPH diaphragm valve
Connection:Flange Ends
Certificate:ISO9001
Medium:Acid
Working pressure:0-10bar
Valve type:1-way
Seal:EPDM+F46
Delivery Time:7 Days
MOQ:1 Piece