PVC Butterfly Valve
What is the PVC Butterfly Valve?
A butterfly valve is a valve with a butterfly shape that is used in a variety of applications. In addition to the traditional uses of water, it is also useful in many industrial processes. There are several different types of butterfly valves on the market, each of which has a different type of body and operation method. You can read on to learn more about these valves. Here are some of the most common uses for a PVC Butterfly Valve.
A PVC Butterfly Valve is often used in industrial applications for on-off control of water. Its NSF-certified construction makes it ideal for use in corrosive environments. They can be operated with either a gear operator or a hand lever. However, you should avoid using a PVC Butterfly Valve in applications that involve compressed gases. Ensure that you purchase the correct type of valve for your application to avoid any unexpected problems.
Another type of Butterfly Valve is the PVC Butterfly Valve. This type of valve is also commonly known as a quarter-turn valve. The butterfly valve has an internal disc that is rotated 90 degrees from the center axis. The disc can be left partially open or closed. This design also allows for regulating the flow of liquids or gases. This valve is an excellent choice for a variety of fluid flow applications, from small to large.
A PVC Butterfly Valve works by isolating or regulating flow. Its closing mechanism is a disc that sits in the center of the valve body. A shaft runs from the disc to the actuator or handle. Regardless of which type of butterfly valve you choose, it is always present in the flow and will create a pressure drop whenever the disc closes. The disc can also be controlled manually. In some applications, it is beneficial to install a PVC Butterfly Valve with a mechanical actuator.
Another PVC Butterfly Valve option is a lug style. These butterfly valves are commonly used in industries that require large flow rates. Because of their thin body, these valves take up less space in the pipeline compared to ball valves. They can also come in a variety of styles, such as lug, wafer, or spigot style. If you're looking for a high-quality PVC Butterfly Valve, make sure to browse the different models on our website.
The PPH Pneumatic Butterfly Valve DN32-1000 Buttlerfly Valve comes in two through eight inch diameters.
Precision machined grooves in the valve body make it easy to align the spline. You can also easily change the direction of operation by using a lever lock plate. The lever lock plate has ten different locking positions: full open, closed, graduated intermediate, and pad-locked. It can operate in any position. If you're using the PVC Butterfly Valve for a larger application, you may want to consider an actuator instead.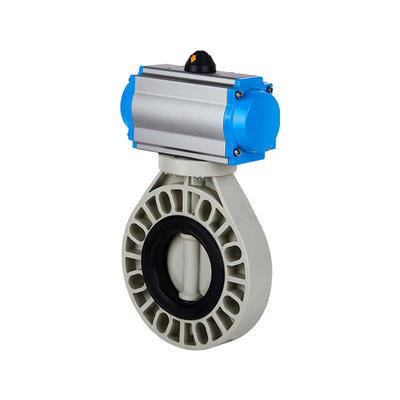 Competitive price PPH Electric Actuator Butterfly Valve Custom 300mm 400mm 1200mm Plastic Wafer Type Double Flanged Butterfly Valve for Agriculture and water system
Type:Butterfly Valves
Place of Origin:China
Brand Name:KXPV
Model Number:D971X-10V
Application:General
Temperature of Media:High Temperature, Medium Temperature
Power:Pneumatic
Media:Acid
Port Size:DN32-1000
Structure:Butterfly
Body material:PPH
Connection:Flange Ends
Standard:DIN3352 F4
Usage:Industry
Working Temperature:-10--70
Delivery Time:7 Days
MOQ:1 Piece