A Check Valve is a specialized valve that allows a fluid to flow through it without allowing it to pass through the valve.
They are commonly used in pipelines, such as gas and oil production, refineries, and the power industry. Swing check valves are also used in applications with high pressure, high volume, and horizontal pipe runs. They also help in mine dewatering. In addition to their various applications, Check Valve is a highly versatile valve.
The two main types of Check valves are swing and reversible. Swing check valves have a full port design, which means the disc is completely out of the way while the fluid flows through the valve. A directional flow opens the disc, and it remains open as the flow continues. Unlike swing check valves, tilted check valves maintain an open position during low flow rates. On the other hand, a swing check valve tends to have higher pressure drops than a globe valve.
Swing checks are one of the most common types of Check Valve in pumping systems. They are readily available, inexpensive, and automatic. They operate by sensing the direction of flow and actuating their disc or flap to open and close. Swing check valves can be of various configurations, but all of them operate in a similar manner. They feature a wafer-shaped body and two D-shaped discs. However, they are not recommended for wastewater applications, as they tend to slam and experience wear and tear.
The main advantage of a Check Valve is its ability to prevent backflow. When the inlet pressure is higher than the outlet side pressure, the valve automatically opens. When the outlet side pressure is too high, however, the valve closes automatically. The exact mechanism for closing a Check Valve is different depending on the type. In most cases, a standard Check Valve is sufficient. Nevertheless, the choice of check valves for pumped systems is crucial.
In terms of applications, the Check Valve is extremely versatile and has many uses. These valves are often used in industrial systems and drinking water distribution systems. Their various designs are specifically tailored to different fluid types and operating conditions. Moreover, some are less tolerant of debris than others and may obstruct the bore of a tube or conduit. In general, the Check Valve is used to keep a fluid or gas within the pipe system.
Spring check valves are also used in low pressure relief applications. They feature an elastomeric ball and a stainless steel body. A "Y" branch on the Check Valve maintains a Tri-Clamp connection, an end cap, and an NBR gasket. These valves are polished to meet 3-A sanitary standards. A shutter or disc is also available in these types. The springs in these valves can be replaced easily.
Different types of check valves have different functions.
A standard Check Valve, for example, is a common type that you can purchase from a home improvement store. Custom check valves, however, are made to suit specific applications. The types of Check Valve vary from one another, but there are several basic characteristics that are common to all of them. Check valves have several benefits over other types of valves. Its basic design makes them inexpensive and relatively simple to install. Moreover, they don't need electricity or air to function.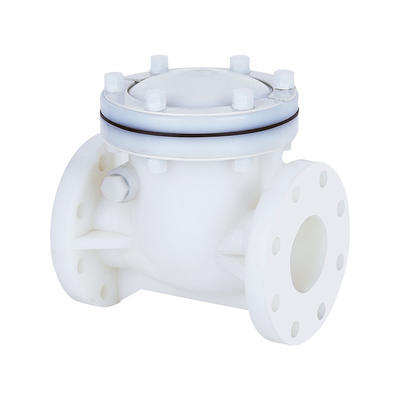 PVDF Swing Type Non Return Wafer Check Valve DN15-DN300 Plastic Check Valves For Industry And Sanitary
Type:Plastic Check Valves
Place of Origin:China
Brand Name:KXPV
Model Number:H44F-10F
Application:General
Temperature of Media:Medium Temperature, Normal Temperature
Power:Manual
Media:Acid
Port Size:DN15-DN300
Structure:Check
Product name:Wafer Check valve
Color:White
Packing:Carton Box
Delivery Time:7 Days
MOQ:1 Piece