A Ball Valve is a valve with a cylindrical sealing surface.
This type of valve is commonly made of plastic to achieve a high sealing performance with zero leakage. It has several advantages over other valve types. One of them is that they are fast to open and close. They are also easy to replace, as their dynamic seal requires only 90 degrees of turn to close. A ball valve has a smooth outer surface that is very difficult to damage.
The port of a ball valve can be manually opened or closed, either manually or through actuation. Manual valves require an operator to turn handles. Actuation is ideal for complex control systems and remote locations. The ball valve stem controls the direction of the ball. It is an essential part of many types of valves. Ball valves can be used in both closed and open-ended applications. Once you understand how they function, you'll be able to choose the type of valve that is right for your application.
A ball valve can be operated manually or through an electric or pneumatic actuator. Its compact design makes it a popular choice, and its easy operation makes it a popular choice. There are several different types of ball valves in the market, and they all follow the same principle and benefits. Choosing one is crucial if you need a valve with minimal movement. It may not be the right choice for every situation, but it does have some advantages that you should keep in mind when selecting one.
Floating ball valves are easy to manufacture, reliable, and inexpensive. A ball valve's sealing performance depends on the fluid pressure. Higher fluid pressure causes a ball valve to seal more easily. The material on the valve seat must be strong enough to handle the ball load. In addition, if the valve is closed, a hollow ball can trap fluid in its closed position. This can cause problems if the valve body does not vent. A ball valve can also be damaged by abrasive particles.
Most ball valves have a single body, and one end is pierced by a ball. The floating ball is the most common design. Other types of ball valves feature a V-shaped hole. Floating ball valves are cheaper than trunnion valves. And while trunnion ball valves are more expensive, they are the best choice for many applications. This type is best for heavy-duty applications, such as in oil and gas.
A ball valve is connected to a stem by a handle.
It can be either open or closed. Depending on its type, the stem can be manual or electrically operated. In either case, the handle is connected to an actuation mechanism that rotates the stem. Handle types include lockable and handwheels. There are also different types of ball valves, which have various mechanisms for controlling their opening and closing. One type has a floating design, which sandwiches a hollow ball between two cupped seats. This forms a tight seal between the ball and the body.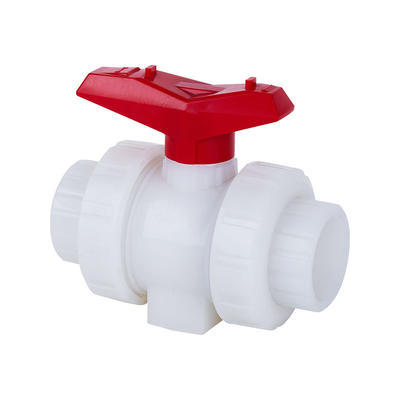 1. The PTFE seat of double-union ball valve can be adjusted tightly.
2. Double O-rings provide double leak protection.
3. Exquisite appearance, smooth surface, fine processing, full flow design.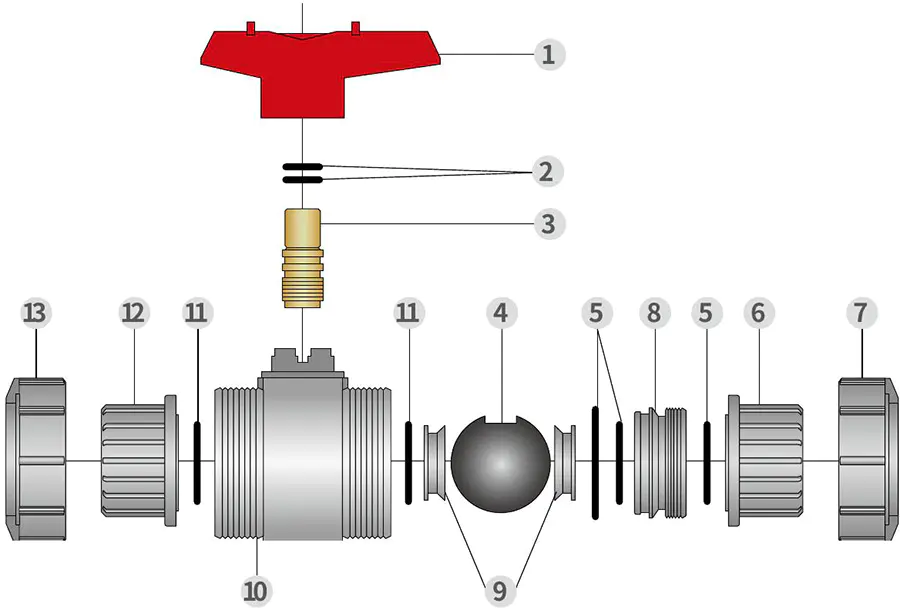 Socket Ball Valve Assembly Detail Drawing
| | | |
| --- | --- | --- |
| No. | Name | Material |
| 1 | Hand wheel | Alloy material |
| 2 | Sealing ring | EPDM,FPM |
| 3 | Stem | FRPP,PVDF,UPVC,CPVC,PPH |
| 4 | Ball | FRPP,PVDF,UPVC,CPVC,PPH |
| 5 | Sealing ring | EPDM,FPM |
| 6 | Socket join | FRPP,PVDF,UPVC,CPVC,PPH |
| 7 | Fight tight nut | FRPP,PVDF,UPVC,CPVC,PPH |
| 8 | Inner Plug | FRPP,PVDF,UPVC,CPVC,PPH |
| 9 | Ball seal | PTFE |
| 10 | Body | FRPP,PVDF,UPVC,CPVC,PPH |
| 11 | Sealing ring | EPDM,FPM |
| 12 | Socket join | FRPP,PVDF,UPVC,CPVC,PPH |
| 13 | Aght tight nut | FRPP,PVDF,UPVC,CPVC,PPH |
| | | | | | | | |
| --- | --- | --- | --- | --- | --- | --- | --- |
| DN | d | D | D1 | L | LI | L2 | H |
| 15 | 20 | 32 | 50 | 39 | 77 | 110 | 55 |
| 20 | 25 | 38 | 58 | 46 | 87 | 125 | 65 |
| 25 | 32 | 46 | 70 | 50 | 96 | 140 | 70 |
| 32 | 40 | 56 | 85 | 55 | 110 | 160 | 90 |
| 40 | 50 | 65 | 98 | 60 | 120 | 170 | 100 |
| 50 | 63 | 80 | 124 | 68 | 140 | 190 | 110 |
| 65 | 75 | 96 | 135 | 68 | 155 | 230 | 115 |
| 80 | 90 | 112 | 158 | 100 | 205 | 280 | 120 |
| 100 | 110 | 133 | 192 | 124 | 235 | 335 | 130 |