The choice between a manual handle-operated butterfly valve and an automated (actuated) butterfly valve in industrial setups depends on several factors, including:
1.Process Requirements:
Precision and Frequency: Processes requiring precise and frequent adjustments, such as those with varying flow rates or composition, often benefit from automated valves to maintain optimal conditions consistently.
2.Safety:
Remote Operation: Automated valves can be operated remotely, minimizing the exposure of personnel to potentially hazardous environments, enhancing workplace safety, and adhering to strict safety protocols.
3.Control Systems:
Integration: Automated valves can seamlessly integrate with existing control systems like SCADA or PLC, enabling centralized monitoring and control of multiple valves. This integration enhances overall system efficiency and responsiveness.
4.Process Complexity:
Multivariable Control: For intricate processes involving multiple variables like pressure, temperature, and flow rates, automated valves with advanced control algorithms ensure precise and coordinated adjustments, optimizing the process.
5.Scalability:
Large-scale Operations: In industrial setups with a vast number of valves, automated valves can be scaled and synchronized efficiently, ensuring coordinated operations and minimizing the need for extensive manpower.
6.Energy Efficiency:
Optimized Operation: Automated valves can be programmed to operate based on demand, reducing energy consumption by ensuring valves are open only when necessary. This energy efficiency is particularly crucial in processes with fluctuating loads.
7.Maintenance Requirements:
Simplicity: Manual valves are mechanically simpler and easier to maintain compared to automated valves. Industries with limited maintenance resources might opt for manual valves to reduce maintenance complexities and costs.
8.Cost Considerations:
Initial Investment vs. Operational Costs: While manual valves have a lower upfront cost, automated valves involve higher initial investments due to actuators and control systems. However, over the long term, automated valves can lead to operational cost savings through energy efficiency and reduced labor requirements.
9.Reliability:
Consistency: Automated valves provide consistent and repeatable operation, minimizing the risk of human error in valve adjustments. However, the reliability of the automation system components and regular maintenance are critical to ensure uninterrupted operation.
10.Emergency Response:
Rapid Adjustments: Industries requiring quick responses to emergencies, such as sudden pressure spikes or leaks, benefit from automated valves equipped with sensors and emergency shutdown systems, allowing swift and precise valve adjustments to mitigate potential hazards.
11.Regulatory Compliance:
Industry Standards: Some industries, such as oil and gas or chemical processing, have specific regulations mandating the use of automated valves for safety and environmental compliance. Adhering to these standards is essential to avoid legal complications and ensure workplace safety.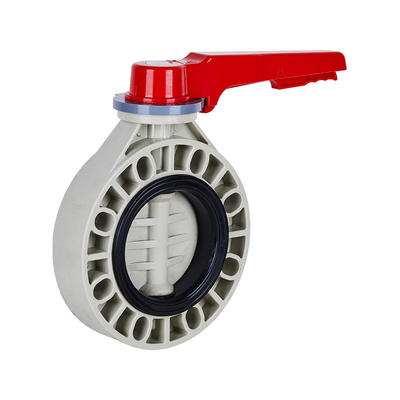 Driving Mode: Manual
Connection Form: Wafer
Structure: Centre Sealing
Seal Form: Force Sealed
Valve Stem: Normal
Work Pressure: Low Pressure (Pn<1.6mpa)
Working Temperature: Normal Temperature (-40°C<T<120°C)
Material of Seal Surface: Soft Sealed
Application: Industrial Usage, Water Industrial Usage, Household Usage
Stem: Steel,Stainless Steel