Chemical Plastic Valve
A Chemical Plastic Valve is a popular type of valve for the control of flow and pressure in many industrial processes.
They offer a number of advantages, including corrosion resistance, thermal stability, and ease of installation. In addition, they are less expensive to ship than other types of valves. There are a variety of types available, including thermoplastic valves, which are ideal for use in extreme temperatures.
The use of plastic valves has wide applications, including in municipal water pipelines, farm irrigation systems, and chemical processing plants. Growing government prominence is expected to fuel the global market for plastic valves. Kaixin Pipeline Technologies Co.,Ltd, a global research and consulting company, has published a report that analyses the global plastic valves market and highlights key market trends. It also provides an outlook on market opportunities and challenges over the next decade.
Chemical Plastic Valve materials include PVC, acetal polymers, and polytetrafluoroethylene. PVC offers good corrosion resistance and is nontoxic, while chlorinated PVC is suitable for use in high temperature environments. Polytetrafluoroethylene (PFE) is another popular option, while polypropylene is similar to PVC but is UV and weather resistant.
Many plastic valve companies are actively exploring acquisition opportunities and tackling key market challenges. The materials used in plastic valves are specifically designed to resist heat and corrosion, making them a popular choice for many industrial applications. Another advantage of plastic valves is their ability to be molded into any shape, making them a perfect choice for confined spaces.
The two main components of a Chemical Plastic Valve are the control device and stem.
The stem has an open and closed end. Both parts feature pre-threaded holes for gasket fastening. They also have an oblong or square body. They are commonly used in process intake systems, pump and mixers, and tanks.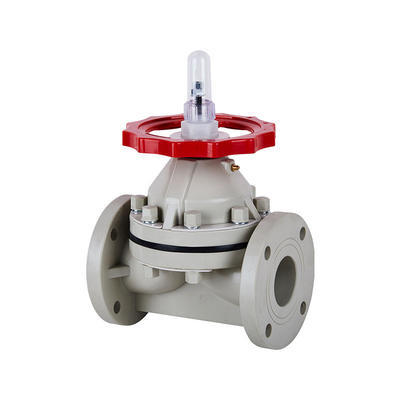 Industrial High Temperature Soft Seal Manual Through Way Plastic PPH Diaphragm Valve For Water Supply
Application:General Water Supply
Temperature of Media:High Temperature, Medium Temperature
Power:Manual
Media:Acid
Port Size:DN15-DN250
Structure:Diaphragm
Product name:PPH diaphragm valve
Connection:Flange Ends
Certificate:ISO9001
Medium:Acid
Working pressure:0-10bar
Valve type:1-way
Seal:EPDM+F46
Delivery Time:7 Days
MOQ:1 Piece