A Diaphragm Valve is a simple, low-cost mechanical valve.
Depending on the type of application, diaphragms can be made of fluorine plastic, rubber, or elastomers. These materials are usually corrosive-resistant and are durable enough to withstand high pressures. Because of their simplicity and ease of maintenance, these valves are suitable for many industrial applications.
The diaphragm material is rubber or plastic. It is often used for fluids that may be highly corrosive. Because it can withstand high pressures and temperatures, this type of valve is good for harsh environments and processes. However, it is important to note that a diaphragm valve must be large to withstand the pressure drop it experiences. For the most part, the valve is a one-way design.
The material used in a Diaphragm Valve is very important. It should be able to withstand the pressure range of the process fluid. Ideally, a valve should support the entire operating range and have a wide pressure range. The body and stem of the valve should be isolated. If there is a leak, the valve should be cleaned immediately. The body and stem of a Diaphragm Valve should also be completely removed.
The diaphragm type will determine the best process fluid for a valve. Wetted valves require the stem to be exposed to the media. Non-wetted valves have separate components. The actuation type will determine the flow force. There are two main types of actuation: manual and electric. The latter is the most commonly used and involves manual actuation. The former uses pneumatic or hydraulic actuators for the actuation of the diaphragm.
A diaphragm valve can be a high-quality mechanical valve for industrial applications. If you're looking for a reliable diaphragm valve, you must have the exact specifications of your project. You should provide a budget, timeframe, and desired post-delivery support. Contacting a manufacturer is the best way to find a suitable diaphragm valve. If you don't know what you're looking for, contact a supplier that specializes in diaphragm valves.
A diaphragm valve is a type of valve with a softer or harder diaphragm. These valves are commonly used in pharmaceutical manufacturing. Zero static diaphragm valves are essential in the pharmaceutical industry. They feature a bonnet that positions the weir directly on the inner diameter of the pipeline. These types of valves eliminate dead legs and stagnation. In the pharmaceutical industry, zero static diaphragm valves are indispensable for processing drugs.
The Diaphragm valve is made of a wide range of materials. Their body is constructed according to the service requirements.
Generally, the valve body is made of corrosion-resistant materials.
The bonnets are made of cast iron and epoxy-coated. The diaphragm is made of plastic or elastomer. When the temperature of the fluid is high, the elastomeric material will reduce its mechanical properties.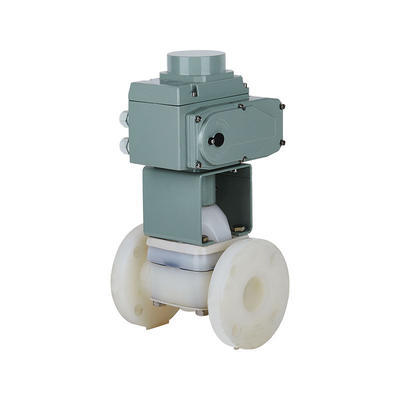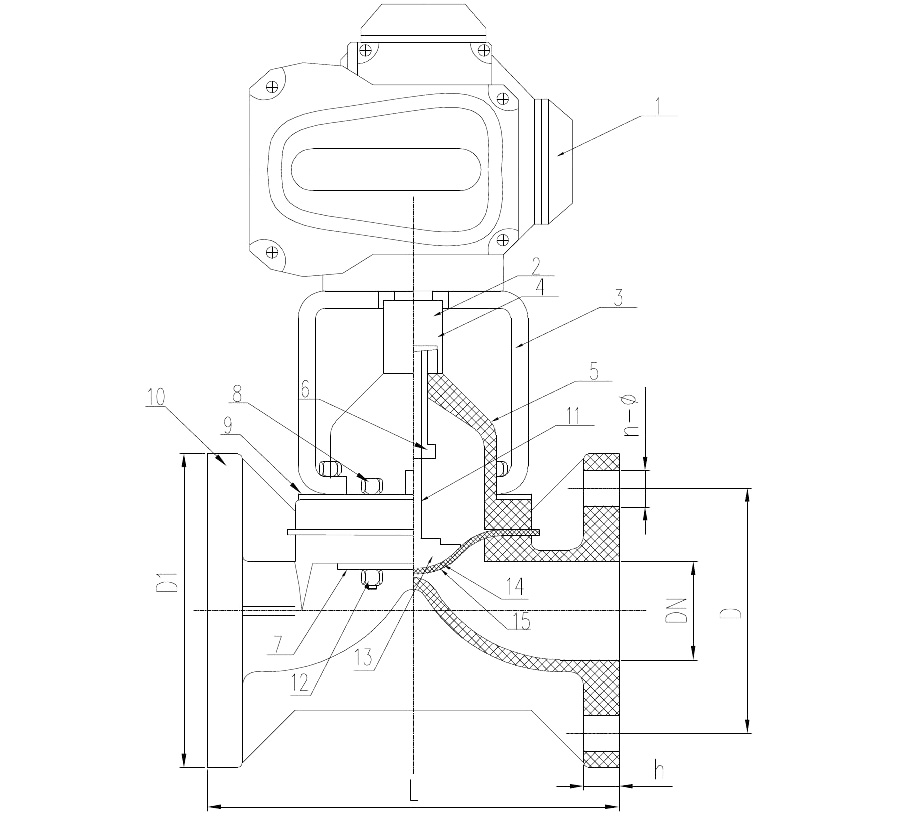 | | | | |
| --- | --- | --- | --- |
| No. | Name | Material | Qty. |
| 1 | Electric actuator | Alloy | l |
| 2 | Connecting rod | Steel | 2 |
| 3 | Electric/ Pneumatic actuator bracket | Iron | 1 |
| 4 | Connectiongpin | Steel | 1 |
| 5 | Bonnet | PPH,CPVC,UPVC,FRPP,PVDF | 1 |
| 6 | Stem nut | Coppering | 1 |
| 7 | Down press plate | Q345 | 2 |
| 8 | Screw | Steel,Stainless steel | 4 |
| 9 | Upper press plate | Q345 | 2 |
| 10 | Body | PPH,CPVC,UPVC,FRPP,PVDF | 1 |
| 11 | Stem | Steel,Stainless steel | 1 |
| 12 | Nut | Steel,Stainless steel | 4 |
| 13 | Disc | PPH,CPVC,UPVC,FRPP,PVDF/ Cast iron | 1 |
| 14 | Rubber gasket | EPDM, FPM | 1 |
| 15 | Diaphragm | F46 | 1 |
| | | | | | |
| --- | --- | --- | --- | --- | --- |
| DN | D1 | D | L | h | n-Φ |
| 15 | 95 | 65 | 126 | 14 | 4-Φ14 |
| 20 | 113 | 75 | 146 | 18 | 4-Φ14 |
| 25 | 114 | 85 | 148 | 18 | 4-Φ14 |
| 32 | 135 | 99 | 160 | 18 | 4-Φ18 |
| 40 | 145 | 110 | 183 | 20 | 4-Φ18 |
| 50 | 159 | 125 | 211 | 22 | 4-Φ18 |
| 65 | 180 | 145 | 252 | 24 | 4-Φ18 |
| 80 | 195 | 160 | 298 | 24 | 8-Φ18 |
| 100 | 216 | 180 | 353 | 28 | 8-Φ18 |
| 125 | 245 | 210 | 397 | 30 | 8-Φ18 |
| 150 | 280 | 240 | 455 | 30 | 8-Φ23 |
| 200 | 338 | 295 | 570 | 40 | 8-Φ23 |
| 250 | 397 | 352 | 686 | 38 | 12-Φ23 |
| 300 | 445 | 400 | 685 | 37 | 12-Φ23 |