Advantages of Plastic Valve Pipe
Plastic valve pipe is widely used in different applications.
Its lightweight and corrosion resistance make it an excellent choice for piping systems. Its application range is broad and its simple structure makes it very easy to install. It is also characterized by a wide range of fluid control and sealing properties. Plastic valve pipe is often used in water, wastewater, seawater, and acid-base solution systems.
The advantages of plastic valves over metal ones include their ease of service and installation. Though most mechanical contractors are not familiar with the installation process, plastic valves can be easily installed using pipe wrenches, channel locks, and cheater bars. While a pipe wrench can be used for metal valves, a strap wrench is recommended for plastic valve installation. Using too much force can damage the plastic valve.
Another advantage of plastic valves is their purity and corrosion resistance. These materials are lightweight and easy to ship. They can handle temperatures up to 500 degrees Fahrenheit without damage. Additionally, their installation process is simple and quick, as they can be hand-threaded or solvent-cementated. So, they are a good choice for many different applications.
Kaixin Pipeline Technologies Co.,Ltd plastic valves. These valves help ensure operational reliability of piping systems, and they can accommodate difficult-to-find designs. For example, they can be used in sanitary ware drain pipes, sewage pipes, underground cable pipes, irrigation pipes, and many more.
Plastic PVC valve pipes are increasing in popularity in hot and cold water supply systems as well as industrial piping engineering applications. These pipes are lightweight, corrosion resistant, and easy to integrate with other plastic piping. They also have a long service life. Regardless of where they're used, plastic PVC valve pipes offer benefits unmatched by any other valves.
Plastic piping systems can withstand corrosion and high-purity liquids. High-quality plastic valves used in semiconductor and chemical manufacturing can be equal to or better than metal valves, and they're often more cost-effective. Some of the most common types of plastic valve pipe are made from acetal polymers, polytetrafluoroethylene, and polypropylene. All of these materials are highly resistant to corrosion and most types of chemicals, and they can be used for a wide variety of applications.
Plastic valves are constructed of two major components - a stem and a main control device body. Both of these components have a flange. They are available in closed or open-end versions. The stems are fitted with pre-threaded holes that facilitate fastening of a gasket.
Plastic valve pipes are available in a variety of sizes, including diaphragm, butterfly, and ball valves.
The company also manufactures corrosion-resistant pumps. In China, Kaixin Pipeline Technologies Co.,Ltd is the largest producer of plastic valve pipes. It is capable of producing up to 60 different types of plastic valves and valve pipeline. It is one of the most professional manufacturers of plastic valve pipe in the world.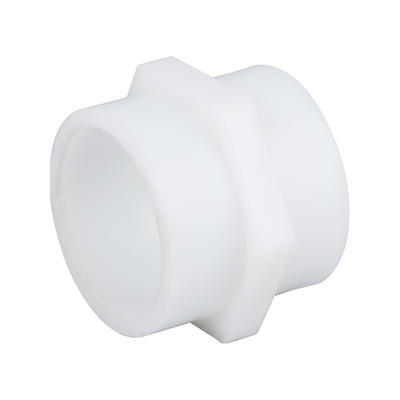 Wholesale Grey FRPP Female Thread Coupling Adapter DN15-DN50 Lightweight Plastic Quick Female Straight Adapter pipe fittings for industry water supply
Place of Origin:China
Brand Name:KXPV
Material:FRPP
Colour:Grey
Technics:Forged
Connection:socket
Shape:Equal
Head Code:Square
Color:Grey
Size:DN15-DN50
Application:Industry
Packing:Carton Box
Working Pressure:1.6Mpa
Delivery Time:7 Days
MOQ:1 Piece
Supply Ability:10000 Piece/Pieces per Month