If you're looking for an excellent plastic pipe manufacturer, Kaixin Pipeline Technologies Co.,Ltd is the company for you. They're an established manufacturer and supplier of valves and other fittings for various applications. They offer a full range of products and services, including fastening and connector technologies. All of their products and services allow customers to complete their projects quickly and reliably.
Typical applications for industrial plastic valves are in water, sewage, and drainage piping systems. They can be used in many different chemical processes as well as in water systems with high purity levels. Unlike standard valves, high-end industrial plastics are typically not purchased by maintenance departments, and are generally used for complex and unusual processes. These valves are not suitable for all types of systems and processes, and often require the involvement of an engineer in the specification process.
When it comes to materials, PVC and CPVC are a good choice for water-related applications. Both materials are highly resistant to corrosion and erosion. Both PVC and CPVC valves are lightweight, rugged, and rust-free. Their durability and affordability make them an excellent choice for water-related applications, and they're commonly used in chemical processes. They're a cost-effective solution for most flow-control needs.
Oftentimes, plastic pipes come with shutoff valves, also called check valves. If one or both of these valves are worn, you'll find that servicing the system becomes impossible. However, replacing the plastic pipe shutoff valve is a fairly easy task for anyone with basic DIY skills. Once you've gathered the materials and sorted out the hand tools, you're ready to get started. If you want to save some money on your next DIY project, make sure you get a brand new PVC ball valve.
Whether you need a single-piece or a complete system, IPEX offers a large variety of plastic pipes and fittings. The company's line of products includes double containment, high-purity, and acid waste systems. They also offer a range of flange thread connections to make installation easier. Choosing the right valve can save you time and money on installation and maintenance. So, when it comes to purchasing a new valve, it's a good idea to choose one that has a reputation for quality and durability.
As for the performance of plastic PVC valves, it's essential to select quality valves. The greater the torque, the greater the wear and tear on the valve seat. Also, the greater the torque, the shorter the service life. To meet these requirements, plastic PVC valves manufactured by domestic manufacturers have undergone a series of tests to determine how well they handle the operating forces. Besides, the international standard has some points that are not suitable for domestic water supply systems. You must check the design life of plastic PVC valves.
While the stiffness of plastic pipes varies, the preferred stiffness classes for pipes are SN2, SN4, SN8, and SN16. The stiffness of plastic pipes is important when it comes to external loadings during installation. The higher the stiffness, the less likely it is to bend. Nevertheless, once the pipe is properly installed, it continues to deflect. This is because plastic pipe is a flexible material that behaves in the soil. Depending on the amount of soil settlement, the pipe may deflect even further.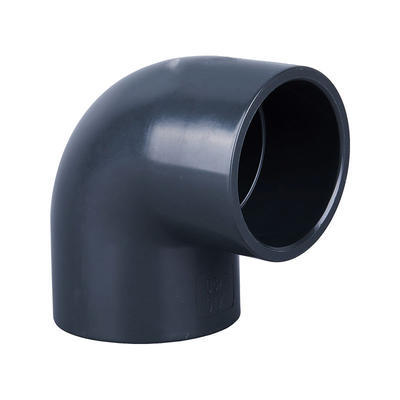 Gray UPVC 90 Degree Elbow DN15-DN600 All Size Plastic Joint Equal Shape Pipe Fitting for water supply and chemical industry
Place of Origin: China
Brand Name: KXPV
Technics: Forged
Connection: socket
Shape: Equal
Head Code: Square
Material: UPVC
Color: Gray
Size: DN15-DN600
Application: Industry
Packing: Carton Box
Working Pressure: 1.0-1.6Mpa (10-25bar)
Supply Ability: 10000 Piece / Pieces per Month