Plastic Pipe Fittings and Their Types
Plastic pipe fittings are commonly used to connect different types of pipes.
They are small nut-like fittings that can be easily removed or replaced. There are three main types of union fittings: male-threaded, female-threaded, and spigot-style. Depending on the end use, these fittings are made of various materials. Below are some of the types and their applications:
When selecting a plastic pipe fitting, it is important to consider the pipe diameter. The smaller the diameter, the less strain the fitting will have to withstand. Smaller diameter threaded joints are more prone to splitting and have lower torque resistance. To minimize the risk of a plastic pipe fitting bursting, use metal fittings. This way, you can be assured of a durable, reliable connection. You can easily find a fitting to match your specific application and installation.
Flexible pipes follow the movement and settlement of the soil. This is due to good installation. The surrounding soil supports the loading. Deflections and stresses occur in the pipe wall. These stresses will never exceed allowable limit values because of thermoplastic behavior. And even after a pipe is correctly installed, further deflection will occur due to soil settlement. Therefore, it is best to purchase a stiffer pipe to accommodate a larger pipe diameter.
The most common material for plastic pipe fittings is PVC, also known as polyvinyl chloride. These pipe fittings are flexible and are easily installed. However, they do not bear the pressure like metal fittings do. Cracks in PVC pipes can lead to leaks. Therefore, it is important to choose the right plastic pipe fittings according to the size and capacity of the pipe. And make sure to choose fittings with a high quality rating.
Another type of plastic pipe is PEX. This is another material used to replace copper pipes. PEX is rigid enough to resist water pressure but still flexible enough to weave through tight spaces. In addition, it is more affordable than copper fittings. PEX pipes are available in a variety of colors. For hot water and cold water connections, they are available in red and blue. If you need a fitting for hot water, you should choose a smaller diameter.
To connect the pieces, you must use a primer and pipe cement. First, clean them of any debris. Prime them with primer, which is usually purple. Once the primer dries, use pipe cement to connect them. You must allow the pipe cement to dry before you can proceed. Then, wait a couple of hours. Afterward, the pipe fitting is ready to be used. You may be surprised at the results!
The main advantage of plastic piping is its low heat conductivity, which helps to maintain water temperature.
It also prevents condensation. Copper pipes may experience condensation because they are not insulated. The plastic pipe is often color-coded and has outside information on the label. Some plastic pipe has laboratory seals that indicate its safe to use with potable water. This means that you can easily recognize the type of plastic pipe fittings you're looking for and choose the right one for the job.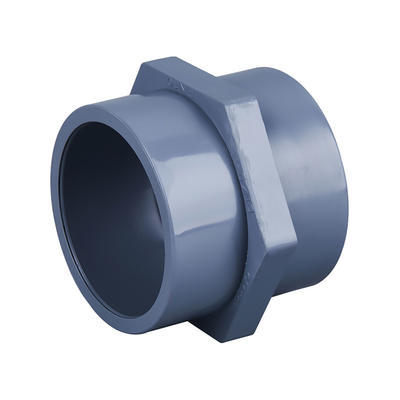 Wholesale Gray CPVC Female Thread Coupling Adapter DN15-DN50 Lightweight Plastic Quick Female Straight Adapter pipe fittings for industry water supply
Place of Origin: China
Brand Name: KXPV
Material: CPVC
Color: Gray
Technics: Forged
Connection: socket
Shape: Equal
Head Code: Square
Color: Gray
Size: DN15-DN50
Application: Industry
Packing: Carton Box
Working Pressure: 1.6Mpa
Delivery Time: 7 Days
MOQ: 1 Piece
Supply Ability: 10000 Piece / Pieces per Month