01. Material characteristics:
PVC is polymerized by vinyl chloride monomer (VCM). PVC material has the characteristics of non-toxic, anti-aging, acid and alkali resistance, so it is very suitable for use in chemical pipelines. . The mixture composed of PVC raw materials and a certain amount of solid additives (without plasticizer) is called rigid polyvinyl chloride (referred to as UPVC).
CPVC is a polymer material made from polyvinyl chloride (PVC) again chlorinated and modified. After the PVC resin is chlorinated, the chlorine content increases from 56.7% to 63-69%, which increases the chemical stability. This improves the material's heat resistance, acid, alkali, salt, oxidant, etc. corrosion; its thermal deformation temperature and mechanical properties are much higher than UPVC. Therefore, CPVC is one of the best engineering materials for industrial piping.
02. Introduction to the piping system:
UPVC and CPVC piping systems have the characteristics of corrosion resistance, impact resistance, non-deformation, smooth inner wall, non-scaling, good heat preservation, non-conductive, convenient bonding, and long service life. Therefore, it gradually replaces other metal piping systems on the advantages of high cost performance and low construction costs. UPVC and CPVC piping systems are convenient and fast to maintain, and do not need to be shut down for a long time and cause huge losses. Therefore, UPVC and CPVC piping systems are currently designed for industrial piping. Preferred.
The maximum allowable temperature for UPVC piping system is 60 ℃, and the long-term use temperature is 45 ℃. It is suitable for transporting some corrosive media with a temperature lower than 45℃; it can also be used for transporting ordinary pressure fluids, generally used for water supply and drainage pipelines, agricultural irrigation pipelines, environmental engineering pipelines, air conditioning pipelines, etc.
The maximum allowable temperature of CPVC piping system is 110 ℃, and the long-term use temperature is 95 ℃. It is suitable for transporting hot water and corrosive media within the pressure range allowed by the standard. Generally used in petroleum, chemical, electronics, electric power, metallurgy, papermaking, food and beverage, medicine, electroplating and other industrial fields.
03.Physical properties: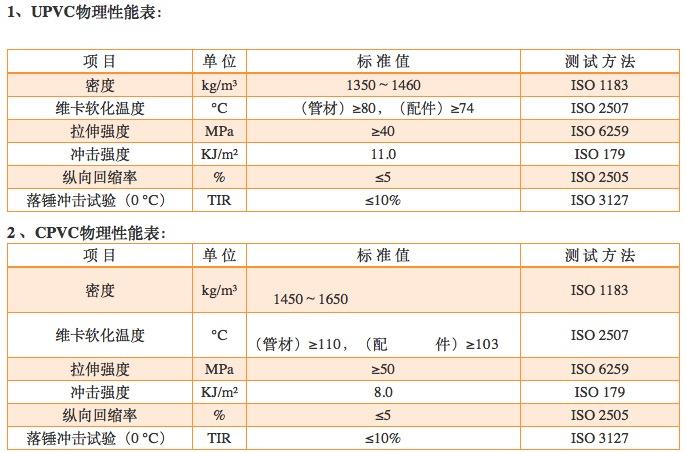 04.Use temperature and operating pressure comparison table:

PS: There are threaded pipelines, the UPVC part must not exceed 110°F (43°C); the CPVC part must not exceed 150°F (66°C).

Products Show