Off in the butterfly valve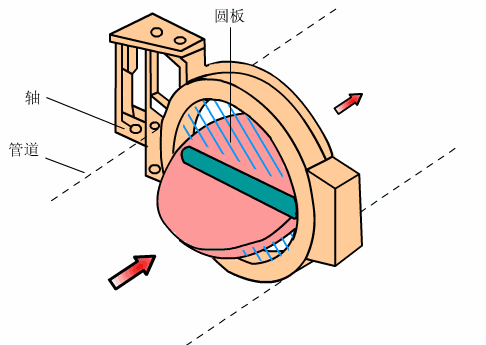 LOOK!LOOK!
Butterfly valve, also called flap valve, is a kind of regulating valve with simple structure. The butterfly valve that can be used for switching control of low-pressure pipeline medium means that the closing part (disc or butterfly plate) is a disc, which rotates around the valve shaft to achieve opening and closing. A kind of valve. It mainly plays the role of cutting off and throttling on the pipeline. It has the characteristics of simple structure, flexible operation, rapid switching, small size, short structure, low resistance and light weight. Valves can be used to control the flow of various types of fluids such as air, water, steam , various corrosive media, mud, oil, liquid metal and radioactive media .
1. It is convenient and quick to open and close, labor saving, low fluid resistance, and can be operated frequently.
2. Simple structure, small size, short structure length, small size, light weight, suitable for large-diameter valves.
3. Mud can be transported, and the accumulation of liquid at the pipe mouth is the least.
4. Under low pressure, good sealing can be achieved.
5. Good adjustment performance.
6. When the valve seat channel is fully open, the effective flow area is larger and the fluid resistance is smaller.
7. The opening and closing moment is small. Because the discs on both sides of the butterfly plate are basically the same as the media, the direction of the torque is opposite, so the opening and closing is more labor-saving.
8. The sealing surface material is generally rubber or plastic, so the low-pressure sealing performance is good.
10. The operation is labor-saving, and it can be operated in electric, pneumatic and hydraulic ways.
This article comes from the Internet, only for learning and communication, no commercial purpose