The choice of gasket material plays a crucial role in the sealing performance of industrial valves. Gaskets are used to create a reliable seal between valve components, such as the valve body and the bonnet or between flanges in a piping system. The specific gasket material selected can impact several key aspects of sealing performance:
1.Sealing Integrity: The choice of gasket material is paramount to achieving and maintaining sealing integrity in industrial valves. Gaskets serve as the critical interface between valve components, ensuring a reliable and hermetic seal. The material's ability to conform to irregularities in the mating surfaces and rebound after compression is essential for maintaining sealing integrity under varying operating conditions.
2.Temperature Resistance: Industrial processes often encompass a wide range of temperatures, from cryogenic to high-temperature applications. Gasket materials must exhibit stability and resilience across this spectrum. Materials like silicone or elastomers are suitable for moderate temperatures, while graphite or metal gaskets are preferred for extreme heat.
3.Chemical Compatibility: Industrial valves are exposed to a diverse array of process fluids, many of which can be highly corrosive or reactive. The gasket material must be carefully chosen to resist chemical attack and maintain its sealing properties over time. For example, in corrosive environments, fluoropolymer-based gaskets such as PTFE are favored for their chemical inertness.
4.Pressure Rating: Gasket materials must be able to withstand the internal pressure of the valve without deformation or extrusion, which can lead to leakage. The choice of gasket thickness, type, and material is tailored to the specific pressure rating of the valve and the application. High-pressure applications often require metallic or spiral-wound gaskets due to their superior strength and resilience.
5.Environmental Factors: Environmental conditions surrounding the valve, including exposure to UV radiation, humidity, and airborne contaminants, can impact gasket performance. UV-resistant gasket materials or protective coatings may be necessary for outdoor or exposed installations.
6.Installation Requirements: Proper installation procedures are critical to achieving an effective seal. Some gasket materials require specific torque values during flange assembly, the use of lubricants, or controlled compression techniques. Failure to follow these guidelines can lead to uneven compression and potential leaks.
7.Longevity: The longevity of the gasket material should align with the expected service life of the valve and the frequency of maintenance intervals. Premature gasket failure can result in costly downtime and maintenance. Regular inspection and replacement of gaskets as part of a preventive maintenance program are essential to avoid unscheduled shutdowns.
Common gasket materials used in industrial valve applications include:
Non-Metallic Gaskets: Made from materials like rubber, silicone, or PTFE (Teflon). They are suitable for a wide range of temperatures and provide good chemical resistance.
Metallic Gaskets: Often made from soft metals like graphite or spiral-wound with a metal core. These are used in high-temperature and high-pressure applications.
Compressed Fiber Gaskets: Made from materials like compressed asbestos or non-asbestos fiber. They offer excellent sealing performance but may have environmental concerns due to asbestos.
Ring Joint Gaskets: Typically used in high-pressure applications, such as in oil and gas industries, and are made from various metal alloys.
Serrated Gaskets: These are used in flange connections and have serrations that help to improve the seal under pressure.
CPVC Pneumatic Diaphragm Valve DN15-300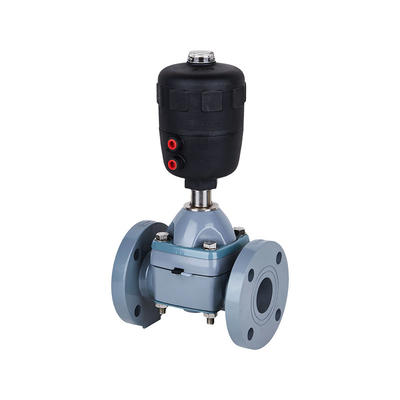 The seal diaphragm is made of F46 or PFA,the number of folds is ≥120000 times,and the corrosion resistance is equivalent to F4.
Adopting the screw lifting structure,the opening and closing force is huge and the stability is good.