Troubleshooting common problems like valve leakage or sticking in chemical valves is essential to maintain the reliability and safety of your processes. Here's a general guide on how to address these issues:


Valve Leakage:


1.Inspect the Seals:
Carefully examine the seals, including gaskets, O-rings, and packing, for signs of wear, deterioration, or damage. Ensure that the seals are compatible with the chemical being processed. Replace any damaged or incompatible seals with suitable replacements, adhering to manufacturer specifications and chemical compatibility guidelines.
2.Tighten Bolts:
Evaluate the condition of bolts and nuts securing the valve components. Loose fasteners can lead to leakage. Using a calibrated torque wrench, tighten them to the manufacturer's recommended torque values to ensure proper compression and sealing.
3.Check for Debris:
Investigate the internal components of the valve for the presence of foreign particles, scale, or debris that may obstruct the sealing surfaces. Thoroughly clean the valve internals using an appropriate cleaning agent or solvent, ensuring that it is chemically compatible with the process fluid.
4.Evaluate Valve Condition:
Assess the overall condition of the valve body and trim. Pay particular attention to areas prone to corrosion or damage, such as welds and internal surfaces. If severe corrosion or structural issues are identified, consider the need for valve repair or replacement to prevent persistent leakage.
5.Lubrication:
Confirm that the valve stem or spindle is adequately lubricated with a chemical-resistant lubricant compatible with the process fluid. Proper lubrication reduces friction and minimizes the potential for stem leakage. Follow manufacturer-recommended lubrication intervals and guidelines.
6.Pressure Test:
After addressing potential leakage causes, perform a pressure test to verify the effectiveness of the repairs. Gradually increase the pressure to the specified operating range while closely monitoring for any signs of leakage. If leaks persist, further diagnostic measures may be required.


Valve Sticking:


1.Inspect the Stem:
Thoroughly examine the valve stem for signs of corrosion, scoring, or mechanical damage. Clean the stem surface to remove any deposits or contaminants that could impede smooth operation. For extensive stem damage, consider stem replacement as necessary.
2.Packing Adjustment:
If the valve employs packing, assess the packing gland nut's tightness. Carefully adjust it to achieve an optimal balance between preventing leakage and allowing smooth valve operation. Over-tightening the packing can cause unnecessary friction and sticking.
3.Foreign Objects:
Inspect the valve's internal components for any foreign objects or debris that may have entered the valve body, preventing proper movement. Remove any obstructions carefully to restore smooth operation.
4.Actuator Check:
If the valve is actuated, examine the actuator's functionality. Ensure it operates smoothly without binding or irregularities. Inspect the electrical or pneumatic connections for signs of damage or malfunction, as actuator issues can lead to valve sticking.
5.Material Compatibility:
Verify that all materials in contact with the process fluid are chemically compatible with the chemicals being processed. Incompatibility can cause corrosion and contribute to sticking issues. Consult chemical compatibility charts and guidelines to ensure proper material selection.
6.Temperature and Pressure:
Confirm that the valve is operating within its specified temperature and pressure ranges. Extreme conditions, either high or low, can affect the valve's performance and contribute to sticking. Adjust process conditions if necessary.
7.Maintenance Schedule:
Establish a routine maintenance schedule that includes cleaning, lubrication, and inspection of the valve. Regular maintenance helps prevent sticking issues from developing over time and ensures the valve's long-term reliability.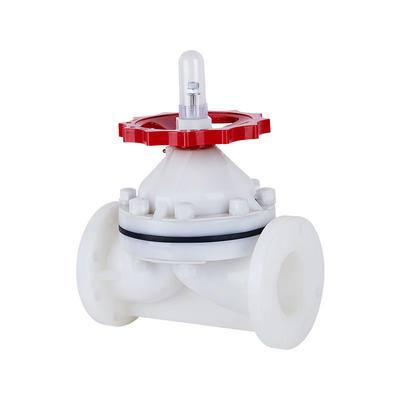 Model Number: G41F-10F
Colour: White
Application: General
Material: PVDF
Temperature of Media: High Temperature, Medium Temperature
Pressure: Medium Pressure
Power: Manual