PVDF valves are known for their chemical resistance and durability, but like any valve, they can still face potential leakage issues. Here's how PVDF valves handle such issues and measures that can be taken to prevent them:
1.Sealing Mechanism Inspection:
Regularly inspect the sealing mechanisms used in PVDF valves, such as O-rings, gaskets, or diaphragms, for signs of wear, degradation, or damage.
Replace any worn or damaged sealing components promptly to maintain effective sealing and prevent leakage.
2.Proper Installation:
Ensure that PVDF valves are installed correctly according to manufacturer guidelines.
Proper alignment and adherence to specified torque settings during installation are critical to prevent leaks at connection points.
3.Valve Type Selection:
Select the appropriate type of PVDF valve based on the specific requirements of your application and system.
Different valve types offer varying levels of leakage resistance; choose one that aligns with your operational needs.
4.Material Compatibility Assessment:
Conduct a thorough assessment of material compatibility between PVDF valve components and the chemicals or fluids they will handle.
Verify that PVDF is chemically resistant to the substances it will encounter to prevent corrosion or material degradation that could lead to leakage.
5.Adherence to Pressure and Temperature Ratings:
Operate PVDF valves within their specified pressure and temperature ranges as outlined by the manufacturer.
Exceeding these limits can compromise the structural integrity of the valve and increase the risk of leakage.
6.Scheduled Inspection and Maintenance:
Establish a comprehensive maintenance schedule for PVDF valves, including routine inspections.
During inspections, assess the condition of seals, gaskets, and other critical components, looking for signs of wear, chemical damage, or corrosion.
Replace or refurbish components as needed to ensure long-term sealing integrity.
7.Thorough Leak Testing:
Prior to placing PVDF valves into service or after any significant repairs or modifications, conduct comprehensive leak tests.
Pressure and leak tests can reveal potential issues and verify that the valve maintains its sealing effectiveness under operating conditions.
8.Proper Lubrication Practices:
Apply suitable lubricants to moving parts, such as valve stems or actuator mechanisms, as recommended by the manufacturer.
Adequate lubrication ensures smooth operation, reduces friction-related wear, and prevents potential leakage due to mechanical issues.
9.Operator Training and Awareness:
Provide comprehensive training to personnel responsible for operating PVDF valves.
Training should encompass valve handling, routine inspection procedures, and an understanding of the valves' operational limits to prevent misuse or damage.
10.Emergency Response Plans:
Develop and implement emergency response plans in case of unexpected PVDF valve leakage.
These plans should include containment measures, isolation procedures, and mitigation strategies to minimize the impact of a leak on personnel and the environment.
11.Environmental Impact Consideration:
Recognize the environmental implications of a potential PVDF valve leak, particularly in ecologically sensitive areas.
Implement safeguards and containment strategies to prevent harm to the environment and comply with environmental regulations.
12.Quality Assurance:
Procure PVDF valves from reputable manufacturers known for their commitment to quality control and adherence to industry standards.
High-quality valves are less likely to develop leakage issues and offer reliable long-term performance.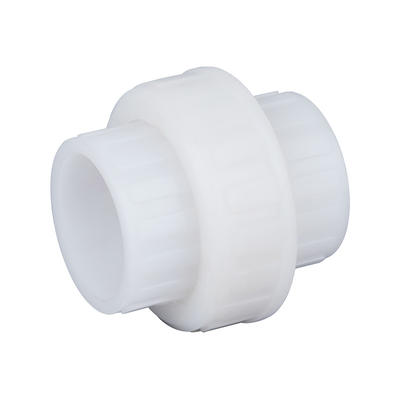 Material: PVDF
Technics: Forged
Connection: socket
Shape: Equal
Head Code: Square
Color: Gray
Size: DN15-DN100
Application: Industry
Working Pressure: 1.0-1.6Mpa (10-25bar)