There are many options available in globe valve construction.
There are metal, alloy, and plastic models. Proper selection depends on the media, concentration, and temperature. It may be helpful to consult with the manufacturer to determine the best option for your application. These valves also come with custom designs. In addition to the standard styles, you can find specialty globe valves that meet your specifications. Here are some of the benefits of globe valves. They help reduce water hammer.
The Gate Valves: These valves are often used in combination with globe valves. A gate valve has a stem that turns to raise a disc inside the pipe, which lodges between two seats at the bottom of the valve. Depending on the style of the valve, it can be designed with a knife or wedge shape. The Gate Valves also feature a non-rising stem design. A gate valve offers a tight shutoff with a minimal amount of pressure drop.
Disc Movement: The disk in a globe valve can completely open and close a flow path. During an open cycle, the disk moves away from the valve seat, and the annular space gradually changes to allow fluid to pass through. A globe valve is typically used in pipes no larger than eight inches. Here is an overview of the different types and applications of globe valves. Listed below are some of the benefits and disadvantages of globe valves.
Threaded Stem: The stem of a globe valve is threaded on the external side. The inner side is plain. A long, adjustable disc locknut and guides in the valve body keep the disc in alignment. A disc can rotate freely on a stem to prevent galling and protect the seat ring and face from damage. The stem, on the other hand, bears against a hardened thrust plate. The connections are not necessarily in line with each other. If they are, they will reduce the amount of flow loss.
Composition-Disk Type: A composition-disk-type bonnet is another popular type. A nonmetallic or hard-coated insert ring allows for a tighter closure. Composition-disk types are great for hot water or steam applications. The composition disk is sufficiently resilient to close on solid particles without damaging the valve. Composition-Disk Type
Angle Pattern: This type of valve is useful for applications where the flow is pulsating. This type of valve allows the flow to reverse a perpendicular direction without elbowing. Its low coefficient of flow makes it an excellent choice for pulsating flow. But it has a higher pressure drop than the WYE Pattern Globe valve. If you're looking for a valve with high coefficient of flow, it might be worth considering an Angle Pattern Globe Valve.
Electric Motor: Oftentimes, an electric motor is used to open and close the Globe Valve.
These actuators can be operated manually or by automatic mechanisms. The motor's torque and position determine how high or low the valve is able to open and close. Limit switches can be included in the system to automatically stop the motor when the valve is fully open. You can select a globe valve that best fits your application. You will save money in the long run by choosing this type of valve.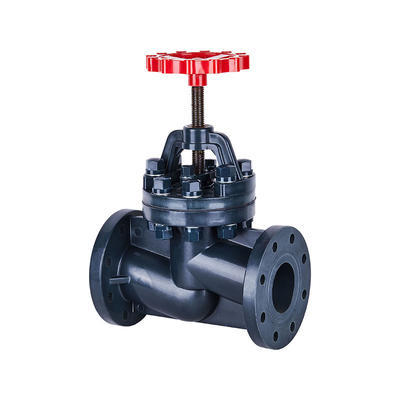 1.The plastic body has excellent corrosion resistance, chemical resistance and abrasion resistance.

2.Compact design, high quality and inexpensive.

3.Provide flow adjustment.

 

 

| | | |
| --- | --- | --- |
| No. | Name | Material |
| 1 | Hand whell |  Alloy material |
| 2 | Seal nut | FRPP,PVDF,CPVC,UPVC,PPH |
| 3 | Yoke seal | PTFE |
| 4 | Cap nut | FRPP |
| 5 | Hex nuts | Steel |
| 6 | Filling plece | Steel |
| 7 | Bonnet | FRPP,PVDF,CPVC,UPVC,PPH |
| 8 | Double headed stud | Steel |
| 9 | Stem | Steel+Plastic |
| 10 | Capping | FRPP,PVDF,CPVC,UPVC,PPH |
| 11 | Body | FRPP,PVDF,CPVC,UPVC,PPH |
| 12 | Rubber washer | EPDM,FPM |
| 13 | Hex nuts | Steel |
| 14 | Cap nut | FRPP |

Flange Type Globe Valve Assembly Detail Drawing

 

 

DN (mm)

D1

D2

H

L

T

n-Φ

GB

JIS

ANSI

GB

JIS

ANSI

15(1/2")

105

65

70

2.38

220

154

18

4-Φ14

4-Φ15

4-Φ16

20 (3/4")

105

75

75

2.76

220

154

18

4-Φ14

4-Φ15

4-Φ16

25 (1")

115

85

90

3.13

220

160

20

4-Φ14

4-Φ19

4-Φ16

32 (11/4")

135

100

100

3.45

250

185

20

4-Φ18

4-Φ19

4-Φ16

40 (11/2")

150

110

105

3.88

275

200

20

4-Φ18

4-Φ19

4-Φ16

50 (2")

165

125

120

4.74

350

230

20

4-Φ18

4-Φ19

4-Φ19

65 (21/2")

185

145

140

5.49

390

295

24

4-Φ18

4-Φ19

4-Φ19

80 (3")

200

160

150

6

400

310

25

8-Φ18

8-Φ19

4-Φ19

100 (4")

220

180

175

7.5

410

350

26

8-Φ18

8-Φ19

8-Φ19

125 (5")

250

210

210

8.5

430

400

30

8-Φ18

8-Φ23

8-Φ22

150 (6")

285

240

240

9.51

480

480

33

8-Φ23

8-Φ23

8-Φ22