According to the relevant provisions of the "Administrative Measures for the Certification of High-tech Enterprises" (Guoke Fahuo [2016] No. 32) and the "Guidelines for the Management of the Certification of High-tech Enterprises" (Guoke Fahuo [2016] No. 195), Kaixin Pipeline Technology Co., Ltd. The strict review by the functional ministries and commissions successfully passed the national "high-tech enterprise" certification.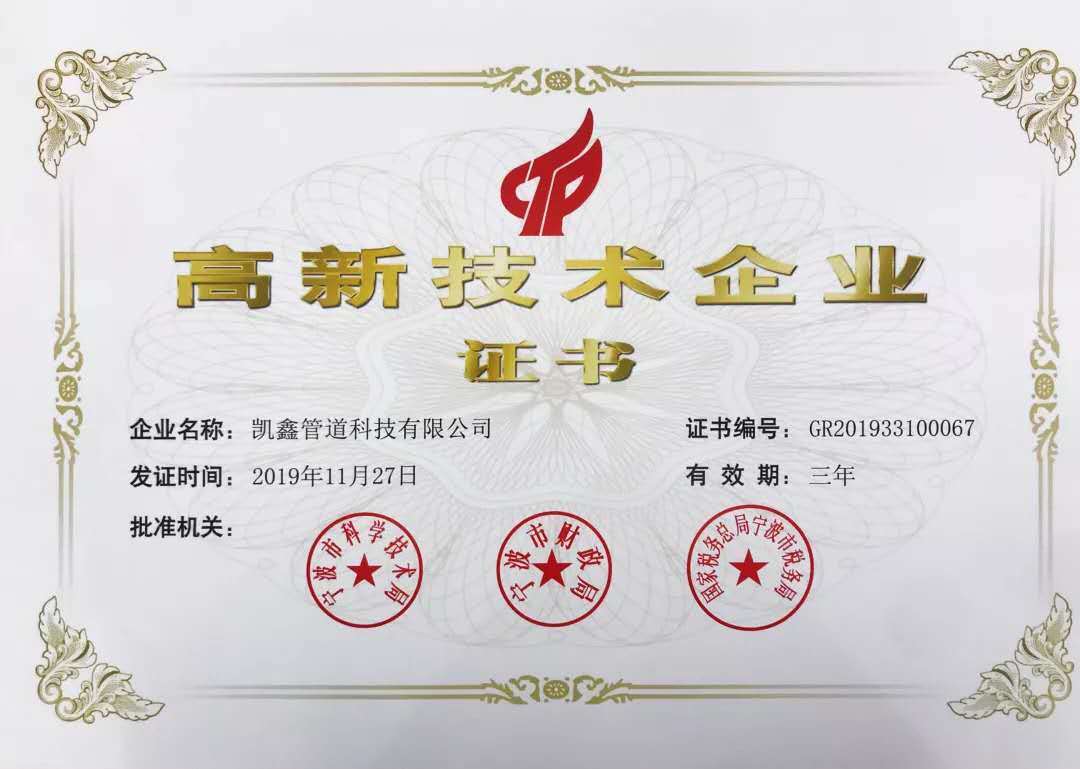 concept:
High-tech enterprises refer to the development in new fields through science and technology or scientific inventions, or innovative operations in the original fields. On the basis of defining the scope of the high-tech industry, the concept of high-tech enterprises can be defined from the "Measures for the Management of the Identification of High-tech Enterprises" revised and issued by the State in 2016. Therefore, in China, high-tech enterprises generally refer to the continuous development, research, and technological transformation within the scope of the "Nationally Supported High-tech Fields" promulgated by the state to form the company 's core independent intellectual property rights and conduct operations based on them The active resident enterprises are knowledge-intensive and technology-intensive economic entities.
Kaixin Pipeline Technology Co., Ltd. has been awarded the "Ningbo High-tech Seedling Enterprise" since 2018. This year, it has been successfully recognized again, which is a high degree of recognition and recognition of our overall technical level.
Our company will take this as an opportunity to follow the development path of independent innovation and continuous innovation, stimulate the enthusiasm for independent innovation, and improve scientific and technological innovation capabilities. Kaixin Pipeline will continue to aim at quality first and customers first, promote development with quality, and seek benefits with credit. Facing customers and markets, further improve the strength of scientific and technological research and development, further strengthen the company's brand image, give full play to the technological advantages and industry resources of high-tech enterprises, create high-quality products and provide quality services for customers, and achieve a win-win situation between the company and customers.