The "2017 Ninth China Plastic Pipe Bidding and Purchasing Evaluation Promotion Activity" takes "Quality, Brand, Intelligent Manufacturing" as the theme of the event, and is jointly organized by China Purchasing and Bidding Network and China Famous Enterprises Ranking Network to promote "quality" And "smart" industry optimization and upgrading. China Plastic Pipe Bidding Selection and Promotion Activities have been held for eight consecutive times, and have had a wide range of influences in the industry and society. The evaluations produced "Top Ten Brands in China's Plastic Pipe Industry", "Excellent Supplier of Plastic Pipes in China", and "Chinese Government Procurement". "Top Ten Brands of Plastic Pipes" has become an important reference for project owners, bidding agencies, bid evaluation experts, and bidding project managers when purchasing comparisons and selections.
There are more than 180 companies participating in the promotion activity. The total number of page views of the activity is nearly 600W, and the total number of votes is nearly 200W . Ningbo Kaixin Pump & Valve Manufacturing Co., Ltd. is one of these more than 180 companies. From the compilation of the registration information in the early stage, to the daily non-stop voting by all employees of the company in the mid-term, to the comprehensive review by related institutions and professionals in the later stage, Kai Xin Company has been selected and won 3 awards, namely: "2017 Leading Brand in China's Plastic Pipe Industry", "2017 China's Plastic Pipe Industry Quality Assurance Enterprise", and "2017 China's Best Owner of Plastic Pipe Bidding and Procurement" Satisfaction Award".
2017 Leading Brand in China's Plastic Pipe Industry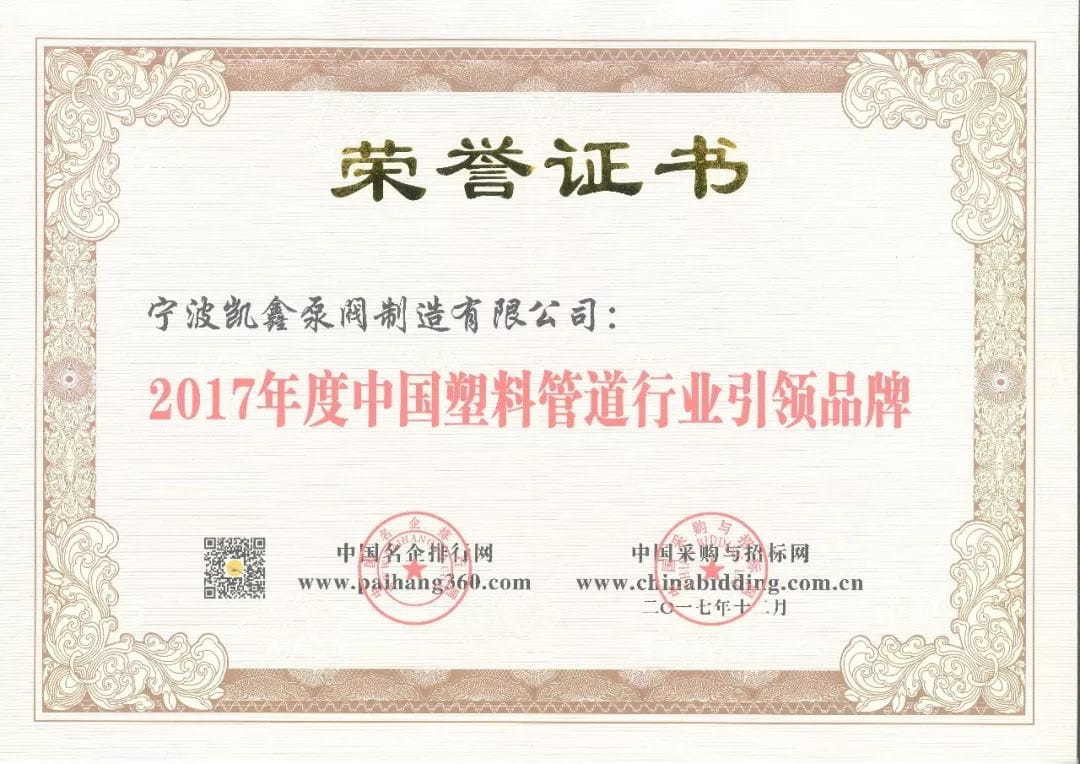 2017 Quality Assurance Enterprise in China's Plastic Pipe Industry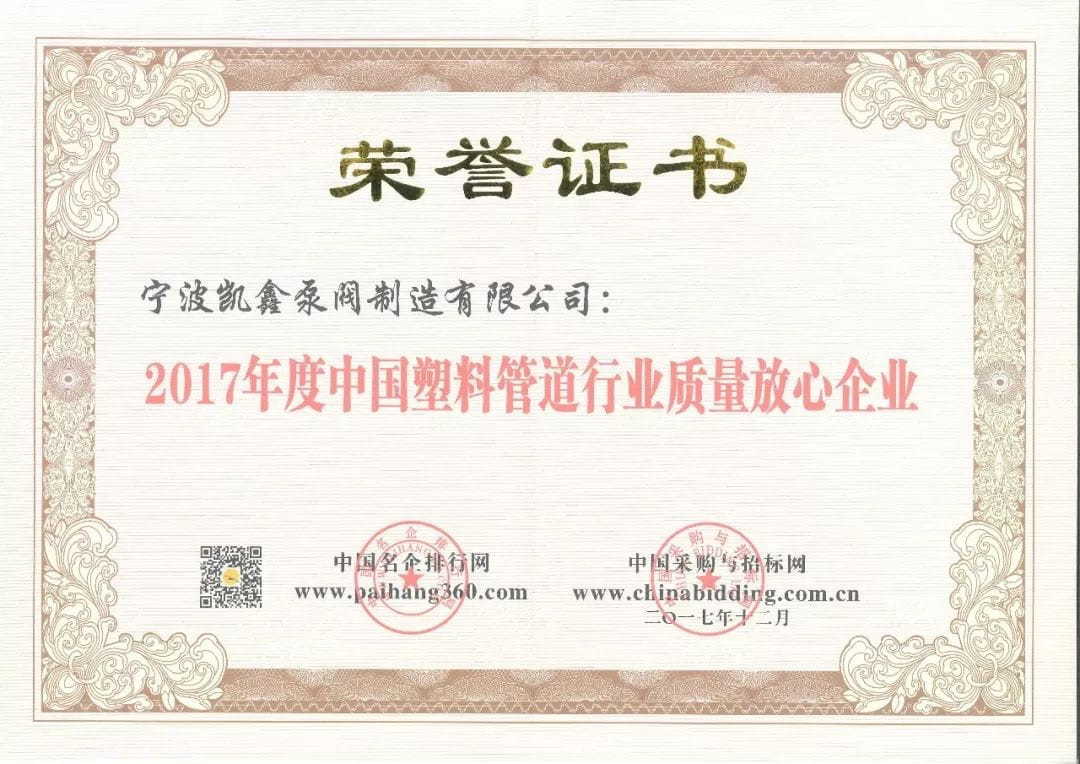 2017 Best Owner Satisfaction Award for
China Plastic Pipe Bidding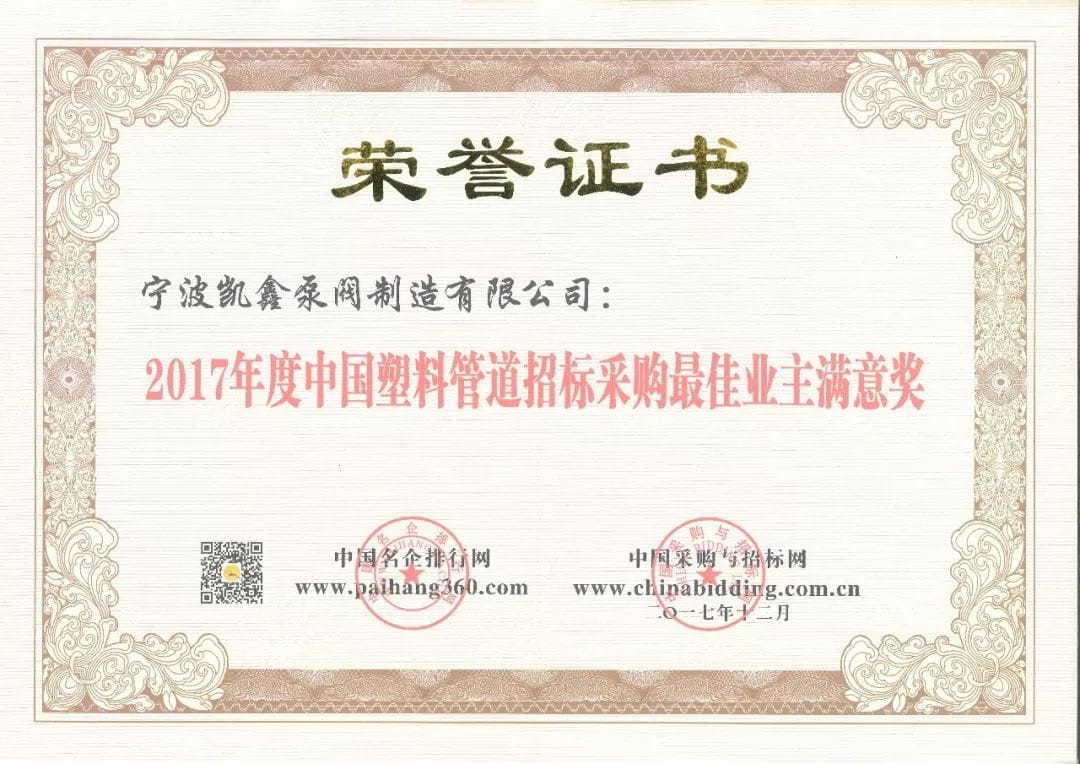 Kaixin will always focus on the principle of quality first and customer first, based on its own research and development strength, and make full use of the advantages of scale and brand to further improve product quality and enrich product categories. The company also has after-sales service. After receiving the quality problem information reflected by the demander, it will respond as soon as possible or send service personnel to ensure that the user is not satisfied with the quality and the service will not stop.
Because of its professional and good service attitude, Kaixin Company is highly praised by customers.
This award is not only an encouragement to our company but also a supervision of our company. Kaixin will always take quality first and customer first as its purpose, and continue to work hard to strengthen innovation.