Corrosion is a common challenge in industrial applications, particularly in environments where chemicals, acids, or corrosive fluids are present. To combat this issue, corrosion resistant plastic centrifugal pumps have emerged as a reliable solution. These specialized pumps offer enhanced durability, efficiency, and performance in corrosive environments. 
Corrosion resistant plastic centrifugal pumps
are specifically designed to handle corrosive liquids without succumbing to degradation or damage. They are constructed using high-quality corrosion resistant materials, such as reinforced thermoplastics like polypropylene (PP), polyvinylidene fluoride (PVDF), or polytetrafluoroethylene (PTFE). These materials possess excellent chemical resistance, ensuring that the pump components remain unaffected by the corrosive fluids they handle.
The design of the pump includes a centrifugal impeller, which rotates to create a centrifugal force that propels the fluid through the pump and into the system. The corrosion resistant materials used in these pumps provide exceptional resistance to chemical attack, protecting the internal components from erosion and degradation over time.
One of the key advantages of corrosion resistant plastic centrifugal pumps is their ability to withstand a wide range of corrosive substances, including acids, alkalis, solvents, and various chemical solutions. This makes them suitable for numerous industries, such as chemical processing, wastewater treatment, metal plating, and pharmaceutical manufacturing.
Moreover, these pumps offer several benefits that contribute to improved industrial efficiency. Firstly, their corrosion resistance eliminates the need for frequent pump repairs or replacements, reducing downtime and maintenance costs. They can operate reliably over extended periods, ensuring uninterrupted workflow and enhanced productivity.Secondly, corrosion resistant plastic centrifugal pumps are lightweight and easier to install compared to traditional metal pumps. This not only simplifies the installation process but also reduces the structural load on the system.
Furthermore, these pumps exhibit excellent energy efficiency, allowing for cost savings in the long run. Their smooth internal surfaces and optimized hydraulic design minimize energy losses, resulting in lower power consumption.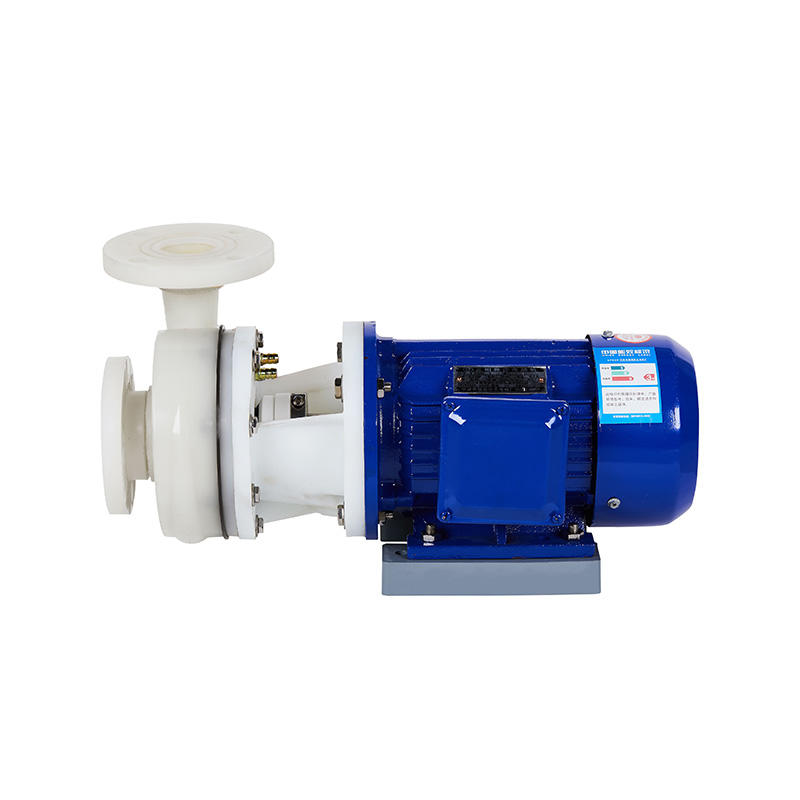 Our factory specializes in the production of four series (FV, FP, FVZ, FPZ) of the four series (FV, FP, FVZ, FPZ) of PVDF and FRPP centrifugal pump and the self-priming pump.The PVDF pump is suitable for strong acid, strong oxidizer, halogen, aromatic hydrocarbons, chemical media such as fat, chlorinated solvents, practical temperature to-40 ° C to + 140 ° C . The FRPP pump is suitable for strong alkali, acid & alkali salts and its derivatives commonly.For secondary pump drive general Y type energy-saving motor, and it's operating temperature is -40 ° C —+90 ° C .The explosion proof motor only supplied with according requisition.With special requirements for flow, lift, rotating speed and power, our factory can provide technical service to meet customer's requirement