In the automotive industry, the plastic valve has become the preferred material for many reasons.
This is because it is highly resistant to heat, high temperatures, low thermal conductivity, and corrosive chemicals. In addition, the coil encapsulation technique used in these valves allows for hazardous location ratings. A high end engineering grade polymer, polyamide, is used in encapsulated type coils. This tough, glass-reinforced material is ideal for high-temperature applications. Its UL Class H rating of 180degC provides protection against extreme temperature cycling. Its T rating of 4 allows it to operate in a flammable atmosphere and withstand extreme pressure.
Kaixin offers a complete range of plastic diaphragm valves. These are typically one valve that is designed to allow two different flow patterns. In some cases, the valve can be installed with the bottom port as the common port. This feature makes it possible to divert flow to the left or right, or 180 degrees. A center off position is also available. The Kaixin plastic diaphragm valves are highly durable and are suitable for various industrial applications.
Compared to metal valves, plastic valves are lighter and more flexible. Moreover, they have a longer service life and reduce shipping costs. Moreover, the plastic material reduces the need for periodic maintenance. In fact, the highest quality plastic valves are almost as reliable as the metal counterparts. And the durability of plastic valves is unmatched. These advantages make them a great choice for a variety of industrial processes.
The main benefit of plastic valves is their low cost and low weight. This makes them more affordable and easier to transport. And, they are also more durable than their metal counterparts. Some types even outperform metal valves. They also offer a maintenance-free service life. These advantages make it the ideal choice for industries that require chemical and corrosion resistance. So, the plastic valve is an economical choice for your fluid-handling needs.
The plastic valve industry has evolved since its beginnings. It is a relatively recent development compared to the metal valve industry. The ancient Romans and Greeks were the first to develop this technology. A bronze valve was crucial in developing canal systems. A plastic valve has come a long way from that time. You can buy a wide variety of valves that are resistant to chemicals in industrial settings. But, you should not forget about its limitations.
A plastic valve can be used in industries where corrosion and chemical resistance are a must.
There are some advantages to using plastic valves in these industries. Unlike metal valves, they are lightweight and can be easily transported. This makes them very popular in a wide range of industrial applications. They can also be found in the most extreme environments. The advantage of these valves is that they are durable and inexpensive. This means that they can be used for industrial applications.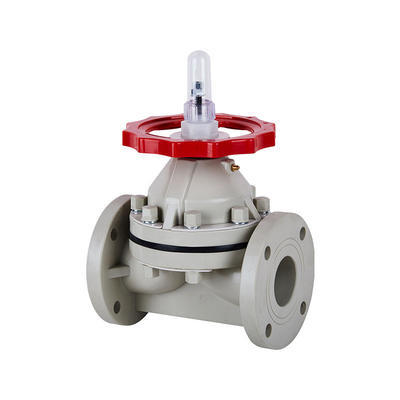 Industrial High Temperature Soft Seal Manual Through Way Plastic PPH Diaphragm Valve For Water Supply
Application:General Water Supply
Temperature of Media:High Temperature, Medium Temperature
Power:Manual
Media:Acid
Port Size:DN15-DN250
Structure:Diaphragm
Product name:PPH diaphragm valve
Connection:Flange Ends
Certificate:ISO9001
Medium:Acid
Working pressure:0-10bar
Valve type:1-way
Seal:EPDM+F46
Delivery Time:7 Days
MOQ:1 Piece