A Globe Valve is a valve with a sphere-shaped body and a stationary ring seat.
The disk completely closes the seat, thereby stopping or starting fluid flow. The disk is raised or lowered by turning the handle, either manually or through an actuator. If the valve is fully closed, the medium does not flow. If the valve is fully opened, the fluid flows normally. If the valve is closed, the fluid flow is regulated and the pressure drop is small.
A Globe Valve is typically used in fuel oil systems, cooling water systems, feedwater systems, and chemical feeds. The disc and seat assembly are attached to the stem. The valve is generally installed anywhere in the pipeline, and the direction of flow should match the arrow on the valve body. The disc can be easily replaced and can be used anywhere in the pipeline. However, some applications require a high-pressure or temperature media. If you must install a Globe Valve, it's recommended to choose a high-pressure or high-temperature system.
When selecting a Globe Valve, consider the types of bonnets it has. Most bonnets are screw-in or union, and union bonnets are preferred for higher-pressure services. The latter offers a tighter seal and less weight, but is not as flexible. Both types are used for the same application and need to be installed correctly. If you're unsure of what type of bonnet to choose, consult with a technician.
A standard pattern globe valve has a spherical body and seats that are easy to replace. The standard pattern globe valve is designed to withstand frequent valve maintenance. Unlike many valves, the disk and seat of a Globe Valve can be removed and replaced easily. In addition, a Globe Valve with a standard pattern is often considered a maintenance-friendly choice. Its low-cost components make it easy to maintain, making it a cost-effective option for high-pressure applications.
Another type of globe valves is Y-shaped globe valves. Designed for high-pressure applications, these valves are often used in high-pressure applications. The stem rotates at a 45-degree angle to the pipe axis, making it possible to control the flow without an elbow. Their design also allows them to handle the effects of slag. The stem position tells the operator whether the valve is open or closed.
A globe valve can be classified as a cage-guided, top-guided, or split-body valve. Its internal design is similar to that of a gate valve. However, the difference lies in its construction and configuration. Plunger globe valves can be designed for both steam and water flow, as well as other fluids. In addition, these valves are popularly used in urban construction systems, water pipelines, and steam-heating systems.
Another difference between a globe valve and a Y-shaped globe valve is its body. A "Y"-shaped globe valve has a relatively straight bottom and reduces the high pressure drop associated with a globe valve. The Y-shaped globe valves are suitable for high pressures and severe services. The bottom is typically designed in a flat, non-angled shape to prevent fluid from clogging. In this way, the valve can be used anywhere, which is a significant benefit when it comes to reducing overall pressure.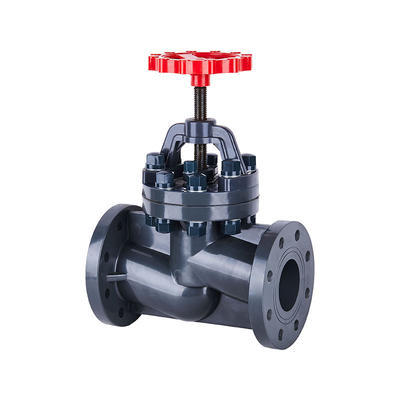 UPVC Flange Ends Type Globe Valve Bellow Seal Plastic 1 way UPVC DN15-DN150 Flange Globe Control Valve
Place of Origin:Zhejiang, China
Brand Name:KXPV
Model Number:J11F-10U
Application:General
Material:Plastic
Temperature of Media:High Temperature, Medium Temperature
Pressure:Low Pressure
Power:Manual
Media:Acid
Port Size: 
Structure:Shutoff
Body material:UPVC
Connection:Flange Ends
Working pressure:0-10bar
Valve type:1-way
Applicable medium:Acid-base
Warranty:12 Months
Temperature:0 ~90
Delivery Time:7 Days
MOQ:1 Piece