Types of Butterfly Valve
A Butterfly Valve has two parts.
The disc is the thin, wafer-like contraption that sits in the middle of the valve. When used for isolation, it seals off the flow of media. The actuator passes force through the stem to open and close the butterfly valve. There are three main types of butterfly valves. One type is referred to as a "rubber-seated" valve. This type has no offset stem. The disc edge and the rubber seat on the stem act as seals.
The three main parts of a butterfly valve are the disk, seat, and stem. Butterfly valves can be either lug style or wafer style. The lug style incorporates threaded alignment inserts to facilitate direct bolt installation and dead-end service. A wafer style valve is sandwiched tightly between two flanges and seals against bidirectional pressure. The butterfly valve body is made of materials that are resistant to corrosion, which is a key feature for its long-term performance.
Butterfly valves have two types of seats. The first is a resilient-seated seat, which provides sanitary connections on the inside and outside of the valve. Standard resilient-seated valves are not 3A-approved but maintain sanitary connections on the inside and out. The body material varies, from elastomeric plastic to bronze. It is recommended to choose a resilient-seated valve if you are processing food. If you don't need 3A approval, a soft seat may be a better option for your needs.
Another type of butterfly valve is a Pneumatic Butterfly Valve. This butterfly valve can be manually operated electronically. When operated electronically, a signal from a remote source triggers a gearbox to move a disc. A pneumatic-driven butterfly valve uses a piston connected to the body to provide the air pressure required to open the valve. The Pneumatic Butterfly Valve is the most reliable. This type of butterfly valve is often used in applications that require high torques and precision.
A Stainless-steel butterfly valve is a good choice for handling corrosive and acidic fluids. These valves are also able to handle a wide range of temperatures and pressures. Austenitic stainless steel is ideal for cryogenic processes, while duplex stainless steel is preferred for higher pressure and temperature conditions. When choosing a stainless-steel Butterfly Valve, make sure to consider its operating torque.
A quarter-turn butterfly valve is used to regulate the flow of a fluid or gas.
A butterfly valve has a disc mounted on a rotating shaft. When closed, the disc completely blocks the flow. When opened, the disc is at the right angle to the flow. The Butterfly Valve has many advantages and is a popular choice. Many people choose it for its small installation footprint and low costs. They can also be large and can be operated by a handle, gears, or even an automatic actuator.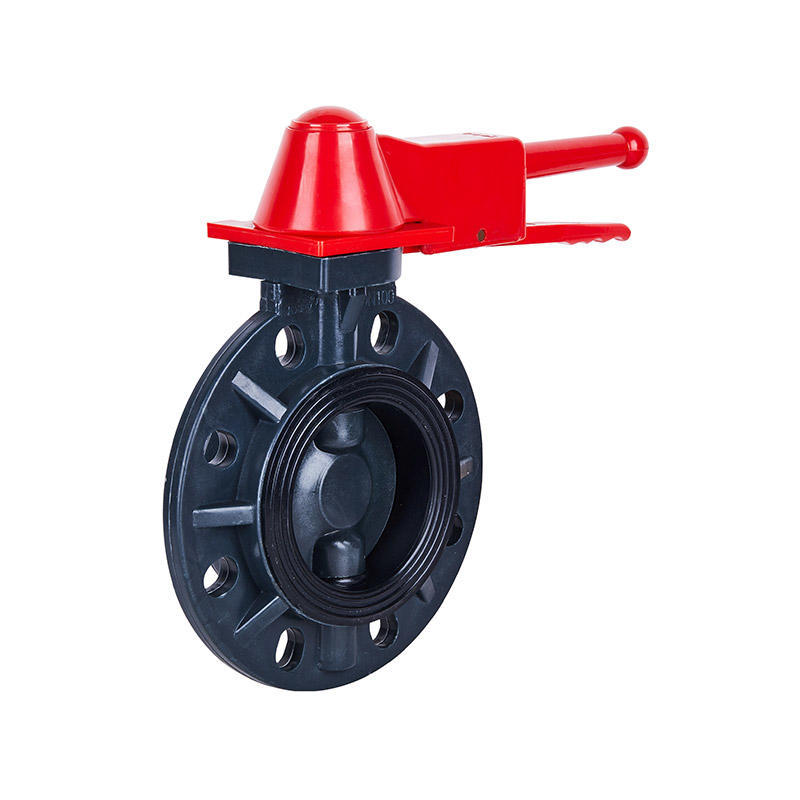 FRPP Hand wheel type butterfly valve
| | | |
| --- | --- | --- |
| No. | Name | Material |
| 1 | Handle head | Alloy material |
| 2 | Hexagonal nut | Steel,Stainless steel |
| 3 | Hand whell | Alloy material |
| 4 | Stem | Steel,Stainless steel |
| 5 | Spring | Steel |
| 6 | Adjust the positioning plate | Alloy material |
| 7 | Pin | Steel |
| 8 | Locating rod | Alloy material |
| 9 | Body | FRPP,PVDF,CPVC,UPVC,PPH |
| 10 | Sealing rubber | EPDM,FPM |
| 11 | Disc | FRPP,PVDF,CPVC,UPVC,PPH |