UPVC    CPVC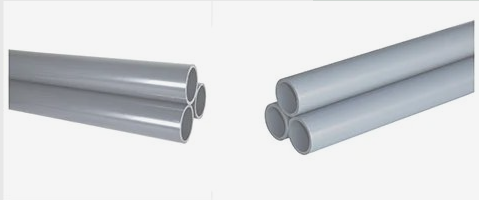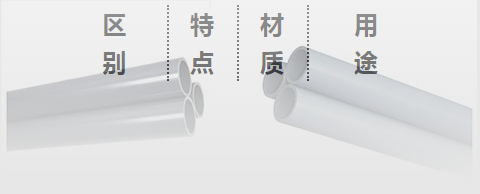 UPVC is hard PVC, a modified material is made by adding a certain amount of modifying additives on the basis of PVC resin powder. "U" means Unplasticized (unplasticized), so the main difference between UPVC and PVC and soft PVC is that there is no added plasticizer, more calcium powder, high mechanical strength of the material, suitable for the production of valve pipes, etc.
CPVC is chlorinated polyvinyl chloride. It increases the chlorine content of PVC materials through a certain process on the basis of PVC resin, generally 63~69%, thereby improving the heat resistance, acid, alkali, salt, and The corrosion of oxidants, etc., increases the thermal deformation temperature and mechanical properties of the material.
Judging from the contents of the above two materials, both are plastics with PVC resin as the base material, which improve the hardness, mechanical strength or corrosion resistance and thermal deformation temperature of the material through chemical or physical methods.
CPVC uses chemical methods to increase the chlorine content of PVC resin, so the material cost of CPVC resin is relatively high. In the later stage, certain modified materials need to be applied to product injection or extrusion, resulting in high cost of CPVC modified materials.
Both UPVC and CPVC piping systems have the characteristics of corrosion resistance, impact resistance, non-deformation, smooth inner wall, non-scaling, good heat preservation, non-conductive, convenient bonding, and long service life. Therefore, it gradually replaces other metal piping systems on the advantages of high cost performance and low construction costs. UPVC and CPVC piping systems are convenient and fast to maintain, and do not need to be shut down for a long time and cause huge losses. Therefore, UPVC and CPVC piping systems are currently designed for industrial piping. Preferred.
       The maximum allowable temperature of UPVC piping system is 60 ℃, and the long-term use temperature is 45 ℃. It is suitable for conveying some corrosive media with a temperature lower than 45℃; it can also be used for conveying ordinary pressure fluids, generally used for water supply and drainage pipes, agricultural irrigation pipes, environmental engineering pipes, air conditioning pipes, etc.
       The maximum allowable operating temperature of CPVC piping system is 110 ℃, and the long-term operating temperature is 95 ℃. It is suitable for transporting hot water and corrosive media within the pressure range allowed by the standard. Generally used in petroleum, chemical, electronics, electric power, metallurgy, papermaking, food and beverage, medicine, electroplating and other industrial fields.
This article comes from the Internet, only for learning and communication, no commercial purpose