PVDF&FRPP Pumps Specification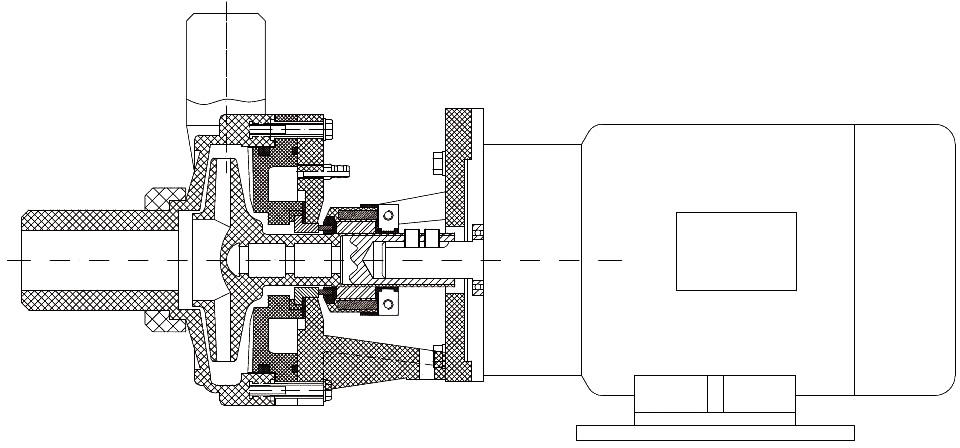 Our factory specializes in the production of four series (FV, FP, FVZ, FPZ) of the four series (FV, FP, FVZ, FPZ) of PVDF and FRPP centrifugal pump and the self-priming pump.The PVDF pump is suitable for strong acid, strong oxidizer, halogen, aromatic hydrocarbons, chemical media such as fat, chlorinated solvents, practical temperature to-40 ° C to + 140 ° C . The FRPP pump is suitable for strong alkali, acid & alkali salts and its derivatives commonly.For secondary pump drive general Y type energy-saving motor, and it's operating temperature is -40 ° C —+90 ° C .The explosion proof motor only supplied with according requisition.With special requirements for flow, lift, rotating speed and power, our factory can provide technical service to meet customer's requirement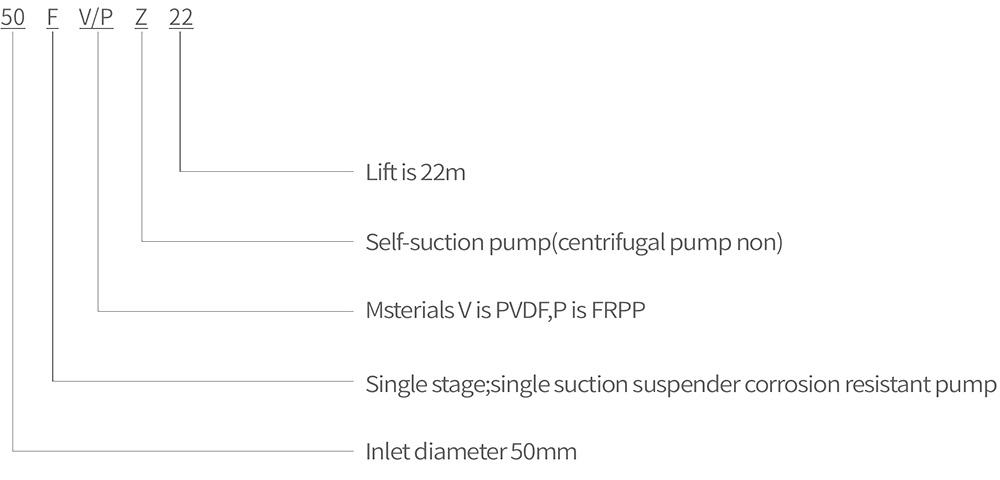 Centrifugal Pump/Self-Priming Pump Flow Graph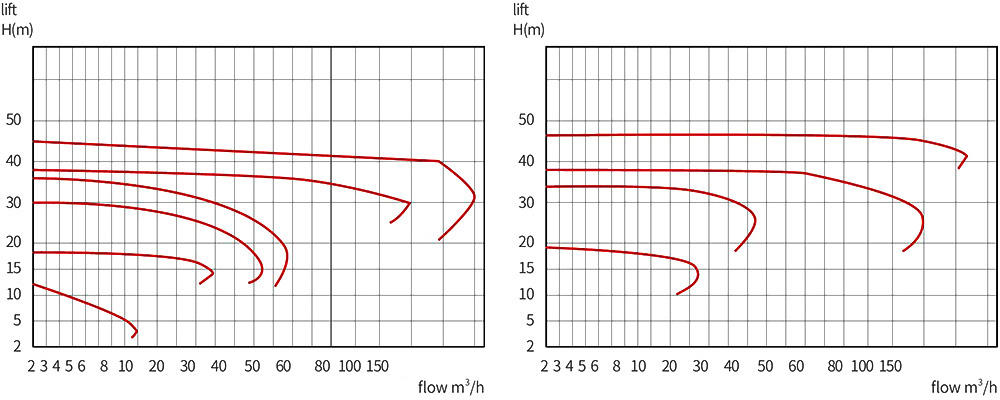 1.After long-distance transportation,the pump should be checked before installation , whether the parts of pump machine are intact, the fasteners are loose, and should be re-tightened to check the concentricity of the shaft of the pump shaft and motor shaft. If there is any loose,it should be corrected.The pump should be check before installation especially for the spare parts; shaft connection and locks should be a djusted on the right position tightly.
2.The pump body is all PVDF and FRPP resin injection molding,so the inlet and outlet pipe lines should have support or suspension structure, should not be supported only by the joint flanges. The inlet pipeline should not have more than 2pcs 90° elbow. The FP, FV type centrifugal pump shall be installed at the front end of the suction tube to ensure that the pump is filled with liquid before starting the pump.The suction nozzle or the bottom valve shall be installed with a strainer, or a strainer shall be installed at the inlet to prevent the sundries from being sucked into the pump and ensure that the pump can function properly.
3.All connection should be tight and without leakage of air, otherwise the pump will not working properly and give the designed flow and lift.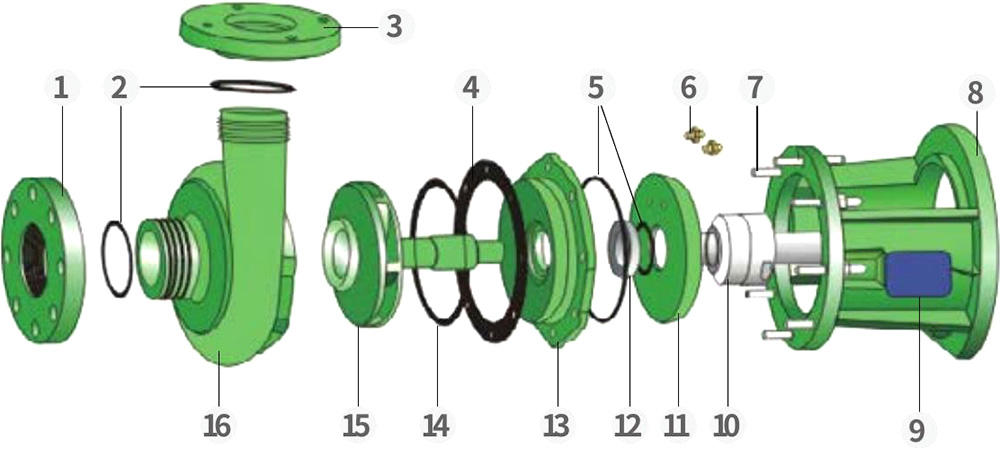 Direct Connection Type Centrifugal Pump Assembly Detail Drawing
| | | |
| --- | --- | --- |
| No. | Name | Material |
| 1 | Inlet flange | FRPP.PVDF |
| 2 | Ring | EPDM.FPM |
| 3 | Pump body | FRPP.PVDF |
| 4 | Seal film | EPDM.FPM |
| 5 | Ring | EPDM.FPM |
| 6 | Cooling water cover | Steel |
| 7 | Double headed stud | Steel,Stainless steel |
| 8 | Suppot | FRPP |
| 9 | Date plate | Aluminum |
| 10 | The mechanical seal moves | Sic |
| 11 | Cools the lid | FRPP.PVDF |
| 12 | Mechanical seal static link | Sic |
| 13 | Cover | FRPP.PVDF |
| 14 | Ring | EPDM.FPM |
| 15 | Impeller shaft | FRPP, Steel PVDF ,Steel |
| 16 | Centrifugal pump pump body | FRPP.PVDF |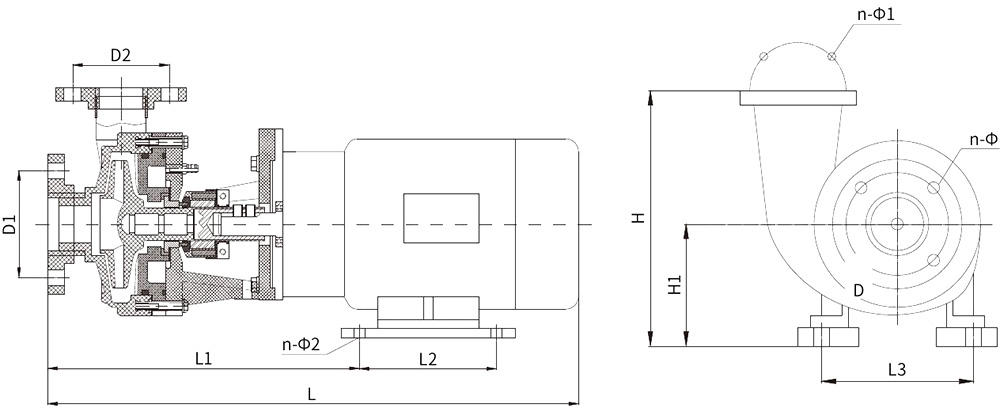 DIMENSION LIST                                                     UNIT:mm
Type/Dimension

Installed Size

Import flange

Export flange

L

L1

L2

L3

H

H1

n-Φ2

D1

n-Φ

D2

4—Φ2

25F

p
(D)-8

400

190

145

110

210

100

4-12

25

Shrink

25

Shrink

v

32F

p
(D)-11

400

190

145

110

210

100

4-12

32

Shrink

25

Shrink

v

40F

p
(D)-18

500

260

145

140

270

130

4-12

110

8-18

100

4-18

v

50F

p
(D)-20

515

255

145

140

280

120

4-12

125

8-18

110

4-18

v

65F

p
(D)-25

650

390

140

190

300

120

4-12

145

8-18

125

4-18

v

80F

p
(D)-30

725

415

140

216

300

130

4-14

160

8-18

145

4-18

v

80F

p
(D)-32

725

415

140

216

300

130

4-14

160

8-18

145

4-18

v

100F

p
(D)-20

860

510

215

250

370

170

4-14

180

8-18

160

8-18

v

100F

p
(D)-32

860

510

215

250

370

170

4-14

180

8-18

160

8-18

v